Administrator
Staff member
Joined

Mar 4, 2003
Messages

29,986
Age

46
Location
Whew, what a busy week!
I didn't even find the time to post what happened during the days, so you'll get a huge newspost update here!
1. Finalizing the case
During the last two weeks, the last missing parts of the plastic case have arrived: The stylus and stylus holder as well as the nubs and the DPad.
The only thing missing now is the metal frame for the logo, but that will have to wait until early May.
Just as a reminder (or in case you didn't know): This case is a first physical test with the real plastic molds.
It is not intended to be perfect yet (and it isn't), so now the company will start to work on tweaking the small details.
You want to know more about that?
Read the spoiler!
For example, the shoulder buttons are too wobbly and don't even reach the button.

Why is that?
Simple: A mold is a negative of a case (which is logical, as the plastic is being injected in there), so making a peg LONGER (like the one on the shoulder buttons to actually reach the switch on the PCB) is easy. You just need to remove a bit more steel.
However, if a peg is too long, it's hard to shorten it in the mold, as it means you need to fill it up with steel.

As things like the shoulder buttons need VERY exact measurements, the best way to achieve that is to make the peg to short, measure how much is missing and drill some more steel.

And that's what they'll do now. Measure, drill and tweak until everything is fitting perfectly!
So how well does the case work?
Overall, I'm pretty happy so far.
The nub discs work perfectly, and even though the nubs themselves are a bit noisy (you can sometimes hear the springs moving inside), they feel great and moving the mouse is just awesome!
Every key of the keyboard is easily reachable, thanks to the rounded corners, the Pyra is comfortable to hold, the DPad works great.
I can't wait until all the tweaks have been finished.
What's great is that you can easily unscrew and open all parts. You can access the LCD and display board without the need to open the base part and vice versa.
It's very repairable and moddable, which is great!
Here's a picture of the DPad and nubs, in case you haven't seen it on Twitter yet: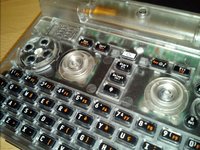 2. Finalizing the LCD Cable
The current LCD cable works fine but it is too short and therefore damage to the cable will happen eventually.
You can clearly see that on the picture (and now you know what a transparent case is useful for!)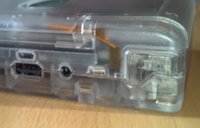 Now that we got the real case, we could create some more paper dummys and finalize the LCD cable design as well.
Here is a gerber view of it: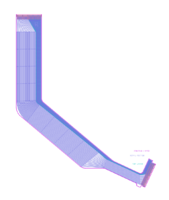 As you can see, it's pretty simple compared to Pandoras LCD Cable, as it simply connects two PCBs together whereas the Pandora had a PCB built into the cable.
This makes the cable a lot cheaper, of course.
3. Finalizing the keymat
While the current keymat works okay, it also can be improved, and I was working on that during the last week.
* The keys will become a bit more rounded (this feels a lot better when your fingers are gliding over the keymat).
* J and F will get little markers (which improves blind typing a lot)
* The ABXY buttons will be lifted up about 2mm (otherwise you easily hit the backspace button while playing games)
* The normal keyboard keys will also be lifted by 0,5mm to make them more accessible
* We're trying three different material types to determine the best feel for the material
We should have the new keymats in a couple of weeks, and we ordered enough so we can create all the needed remaining prototypes from them

4. Finalizing the PCB design
Last week, Nikolaus has worked on the whole battery charging circuit and already made a few small improvements to it.
We will probably also replace one charger chip, as the current one can only handle one charger port input, but want that you can charge through both MicroUSB ports so you can use the other one while charging.
He also built prototypes of the S-ATA adapters, which will need to be tested.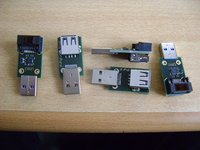 The PCBs are working really well now, and most of the remaining work is software stuff. Nikolaus worked on the SSD kernel driver and seems close to have it finished.
Once he's done that, I can finally simply use the official PyraOS and start playing games with the framebuffer
Maybe that'll already work until next week, when I'll be at the "10. Lange Nacht der Computerspiele" in Leipzig (Germany), a free event with tons of playable retro consoles - and I'll be there and have a table with one or two Pyra prototypes.
Everyone is welcome to come and play with them!
It happens on April 30th, so if you're near Leipzig, you should really visit it (it's a lot of fun!)
5. Finalizing the calculation
We're almost through doing the calculations, and as promised, the 500 EUR price tag for the normal unit can be kept, the 4G unit will be approximately 100 EUR more.
I'm also browsing through the part list to see whether there's a useful way of making a cheaper unit (by e.g. removing the keyboard LEDs, etc.)
We don't want to make something crippled, just removing parts that not everyone needs to help customers who don't have that much money.
6. They're multiplying!
We've also continued to build some more Pyra prototypes now.
Two are fully assembled, next week I plan to assemble a few more.
These will go to devs (one is already on the way to one) and will hopefully help us increase the software faster.
After the devs units, I'll also start to assemble the sold prototypes, but I want to wait until they have the final case and keymat, so they will be more useful.

7. We're listening to you!
Quite a few of you have cried for a 4GB version, and we MIGHT be able to provide one.
When we started, there only were 512MB versions of the RAM chip available that we're using for the OMAP5.
Now there's also a 1GB version available, and if we're using 4 of them, that would add up to 4GB RAM.
And for the 2GB version, we would only use two of those chips
That would have some advantages:
* Two 1GB chips will probably be a few EUR cheaper than four 512MB chips (though this is marginal)
* Two chips will probably use less power than four chips, and every mW of power we can save is useful.
* Both the 4GB and 2GB CPU board would use the same RAM chips, which means we wouldn't need to buy different types of chips but just populate two or four of them. This is REALLY helpful for the MOQ (Minimum order quantity) and for an easy production run.
However, take this info with a grain of salt right now.
We first have to check whether the OMAP5 works with only two memory chips instead of four, and we need to make sure maintaining both versions here is not a lot of work.
What we also don't know yet is whether we'll offer the 4GB as an optional upgrade or include it with the 4G version. It'll become pretty complex for the production run if we have so many different version.
Of course, once we'll know more, I'll let you know.
8. Preorders!
My current plan is to start the preordering May 1st. No final delivery date will be given then (I rather make sure everything is working well than rush things just to get the units to you for a fixed date), but as soon as enough preorders are there, we will order all the parts... so once everything has been finished, the production can start shortly after.
We're getting there!
Last edited: