Joined

Mar 17, 2009
Messages

2,119
Location
This poll attempts to find a small default size for 'guihints' to suggest to developers. (More information about guihints can be found in the thread
guihints - preview01
).
--
This poll is
only for people who already own a Pandora
(please also don't take part if you only own another device that features the same type of screen as the Pandora, such as the 'Archos 605', since the way content is displayed may differ). In the following image, which has to be viewed fullscreen on a Pandora's screen, please select the smallest sized guihint (40, 38, 36, 34, 32, 30, 28, 26, 24, 22, 20, 18 or 16) that you believe may still be about as comfortably seen in a game at a glance as the largest size (40). Keep in mind that, depending on the game they are used in, guihints are sometimes displayed on messy backgrounds or even in in-game action.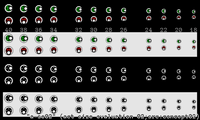 Thank you for you help with increasing the usability of the Pandora.
Last edited by a moderator: