Administrator
Staff member
Joined

Mar 4, 2003
Messages

29,907
Age

44
Location
Well, I hope I didn't shock you too much on April 1st.
Don't worry though, the Pyra is alive and well
So it's time for some real news...
1. Updated keymat design
As I mentioned, the keymat is working fine, but the hard edges of the keys makes gliding over the keyboard with your thumbs a bit uncomfortable.
That's why they will be rounded a bit.
The design is now finished, it will go into production next week.
Here's an updated rendering from me showing how the keys will look now.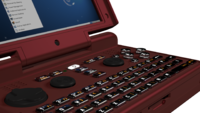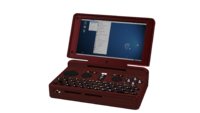 2. Calculating the price and some more hardware infos
We're almost finished calculating the price, so we're also almost ready for the preordering.
The good news: We can almost certainly keep the projected price of 500 EUR for the normal unit. We're still working on the price for the 4G unit, mostly because we need to discuss with the module manufacturer.
Usually, the minimum order quantity for one module is 1000. However, as we need both US and EU modules, we need to work out a deal with them... we don't have a use of 1000 each at the beginning.
I'm sure we can get lower quantities as well, but that will raise the price - so we can't determine the final price (yet).
Onto the hardware infos, or, to be exact, the eMMC:
4GB eMMC cost between 3 - 4 EUR, 8GB eMMC also cost between 3 - 4 EUR (so it's a no-brainer to NOT use 4GB).
The 16GB one is between 6 - 7 EUR.
I just checked my working PC: My ArchLinux needs 15GB. That's with ALL programs installed I can imagine, KDE5 (Plasma), FireFox, Chromium, Vivaldi, FreeCad, Inkscape, Gimp, Krita, Scribus, LibreOffice, Claws-Mail, and so on.
So honestly, for something like the Pyra, where the eMMC is mostly being used for the OS and the preferred storage are SD Cards, 8GB would be enough - but I think 16GB would be nice.
This should be more than enough for a normal OS with the most important programs installed.
After all, we're not using Windows, where the base OS without any applications needs a lot more already...
What do you think?
3. The Case
I've received the next case part, which is the back lid.
So now I've got an almost fully assembled Pyra with real case parts!
Not yet finished is the mold with small parts: DPad, Stylus, Nubs, Stylus Holder, Logo.
Everything else is finished and assembled, here is a quick picture I posted on Twitter two days ago: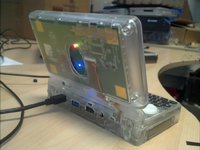 One thing you will probably notice is that the LEDs are not properly aligned behind the logo.
Don't worry about that, the Display PCB will be vastly changed as well: Right now it weighs 20g (which is a lot).
The final version will have quite a few holes cut in, which will lower the weight quite a lot, and the LEDs position will also be fixed then.
I'll make more hires pictures of the assembled prototype within the next few days.
4. The OS / Drivers
Nikolaus had a crashed harddisk, so he couldn't do much last week, sadly, he needs to reinstall his computer.
I did work on the OS a bit more, the keyboard layout is now fully working.
BTW: Using the right nub click as left mouse button and the left nub click as right mouse buttons works nice and is pretty comfortable!
I am now looking for devs who can help us finishing everything right now.
The LCD / SSD driver combination exists as shell script only right now:
http://git.goldelico.com/?p=gta04-k...8;hb=4f931554c5e733ffe056566a5280bec11965b791
This script needs to be changed into a kernel module.
Anyone here who would like to do that?
Send me a PM!
And maybe you could help with that too, but this is very specific:
The OMAP5 is not using PRMC (which are power saving functions) as good as it could - so there's a lot of potential to save battery.
Is anyone here experienced with that or wants to take a look at that?
Send me a PM as well
5. Website
As mentioned, I plan to overhaul the landing page a lot. Christoph.krn has already contacted me with quite a nice list of hidden features, which is a great start.
I'm looking for a HTML coder who could code a small page based on our input (layout, text, pictures).
Nothing too fancy, just some standard HTML, but it should be responsive (which is what I can not do myself).
I've also updated the blender file (which was used to render the pictures above), which will be used for that landing page to create various nice pictures.
I'll clean it up a bit and will release it as well, so any 3D artists here can play around with it a bit.
We need to let new users know what the Pyra can do and what's special about it!
You can also help working on the Wiki: (
https://www.pyra-handheld.com/wiki/index.php?title=Main_Page
)
The login is the same as on the forums, so if you got an account, you can login and work on it right away!
That's it for today. More news soon, some pictures tomorrow.