Joined

Mar 8, 2008
Messages

9,472
The idea of this thread is as the title suggests - suggesting games that others might like, if they already happen to like something else in a similar vein. I figured that it might be a good way to share some lesser-known titles, across all platforms.
I'm going to kick this off with some stuff that you might appreciate if you happen to like Mega Man, or other games of that sort.
Firstly, I highly recommend the Kaizou Choujin Shubibinman series (more detail on it is available
here
). I gather that in its day, some considered it to be almost the PC-Engine equivalent to Mega Man - you play as one of two androids (Tasuke or his sister Kyapiko) who were built by an aging scientist (who in this series also happens to be as mad as a box of frogs), and who have their own lives to lead as well as putting up with their creator sending them off on missions. It's completely over-the-top with its endearingly oddball sense of humour. The first and third games are more focussed on the use of swords than of busters, and if you particularly like playing as Zero in the Mega Man X and Mega Man Zero series, you'll probably find something worth your time here.
The Mega Man style of it all is most evident in its second game, which is also the only one that was ever officially translated into English, as "Shockman" (in this localisation, Tasuke and Kyapiko were renamed Arnold and Sonya, and their origin story was changed a little bit, to claim that they were humans who had been transferred to cyborg bodies). (Yeah, I wonder why they chose the name Shockman... Oh, whatever in the world was it supposed to allude to?
) If you liked Mega Man Zero's challenge, you'll definitely love the second game - it's much harder than that!
In the fourth, and to-date final, game, Kaizou Choujin Shubibinman Zero (which, unlike the first three which were for the PC-Engine/TurboGrafx-16, was for the Super Famicom via the Satellaview add-on), there is a very strong Mega Man X influence - it's in a future where Doc, Tasuke, and Kyapiko have all been long-forgotten, and new threats have to be tackled by the Shubibinmen of that era, Raita and Azuki.
The series is still around, to a degree - its first installment got a re-release for Japanese mobile telephones a few years ago - but at this time there's nothing new coming from it. If you like Mega Man at all, do give Shubibinman a look - it's definitely worth a try.
Also, a fun fact: The composer of the Shubibinman series' music, Koji Hayama, later went on to work with Inti Creates
on the composition and arrangement for Mega Man ZX Advent
. If you've played the Shubibinman titles, particularly the third one, you'll probably notice his style in there (to my ears, it seems to be especially prominent in the track "Drifting Floe").
Secondly, I would also recommend Magical Doropie (about which there is more info
here
), for the NES. It's a very Mega Man-like game, to the point that its protagonist, a witch named Doropie, looks exactly like Mega Man in drag!
... No, really.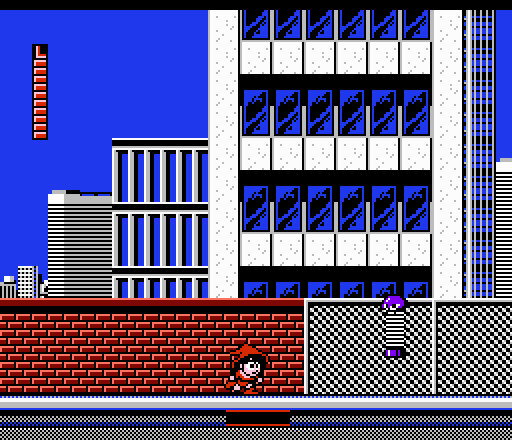 See?
Magical Doropie, so the story goes, started life as a video game version of The Wizard of Oz, and Doropie (apparently a bastardisation of the name Dorothy) is all that remained of it. It evolved into a game about a future where a robot army descends and conquers the Earth, until a mercenary unleashes a witch who was sealed in an old wand, since magic has been determined to be the only thing that can defeat the technology being used to attack.
There's not a whole lot to say about it - Magical Doropie plays exactly like a Mega Man game, except it's a bit harder and you have all of your weapons and items available from the start. Do give it a look.
So, fire away, people - what are your recommendations, on the basis of already liking another series of a similar style?