Joined

May 1, 2012
Messages

966
Location
[ Final Deadline -

10 December 2013

]
​
It would be nice if any of You will be interested in article/reviews contribution for Issue 3. Give me a sign here [or on PM], so i can complete list of authors and nag You before deadline.
[
This will be the final, third Inside The Box E-Zine / DiskMag issue. And sadly , the last one..
]
​
 ​
What Articles are needed for
Inside The Box:
- Game Reviews [Exclusive openpandora games]
- Game Reviews [Ports]
- Emulator Reviews 
- Applications Reviews
- Hardware reviews [example: alternative to OP handhelds like JXD or OpenPandora Accesories]
- Tips And Tricks for Games [Emulator]
- Tips And Tricks for OpenPandora GUI apps [example: Installing LXDE, New shortcuts for XFCE, Wifi dongle setups ]
- Interviews 
- News from OpenPandora Scene / Emulation Scene / RetroScene [take a look into ITB issue I & II to see what kind of news ITB needs]
- Any other articles releated to emulation / retro stuff. [if you want to share some info about your retro action figures, that you collecting]
Whats e-zine/diskmag?
A disk magazine/e-zine, colloquially known as a diskmag, is a magazine that is distributed in electronic form to be read using computers. These had some popularity in the 1980s and 1990s as periodicals distributed on floppy disk, hence their name. The rise of the Internet in the late 1990s caused them to be superseded almost entirely by online publications, which are sometimes still called "diskmags" despite the lack of physical disks.
A unique and defining characteristic about a diskmag in contrast to a typical ASCII "zine" or "t-file" (or even "g-file") is that a diskmag usually comes housed as an executable program file that will only run on a specific hardware platform. A diskmag tends to have an aesthetically appealing and custom graphical user interface (or even interfaces), background music and other features that take advantage of the hardware platform the diskmag was coded for. Diskmags have been written for many platforms, ranging from the C64 on up to the IBM PC and have even been created for video game consoles, like scenedicate for the Dreamcast.
Inside The Box Features:
- Audio-rich [you can play 4 different tracks/music while reading ITB Articles]. This is something you cant do with PDF/Paper Magazines.
- Easy Navigation from article to article. Much easier than browsing PDF file [or browsing the webpage]
- Content rich. More than 100Kb of pure text to read. 
- OpenPandora Controls
- One and only
OpenPandora DiskMagazine.
Previous Inside The Box e-Zines in PND format:
Issue I
http://repo
.openpandora.org/?page=detail&app=insidethebox-1-app
Issue II
http://repo.openpandora.org/?page=detail&app=insidethebox-2-app
Screens: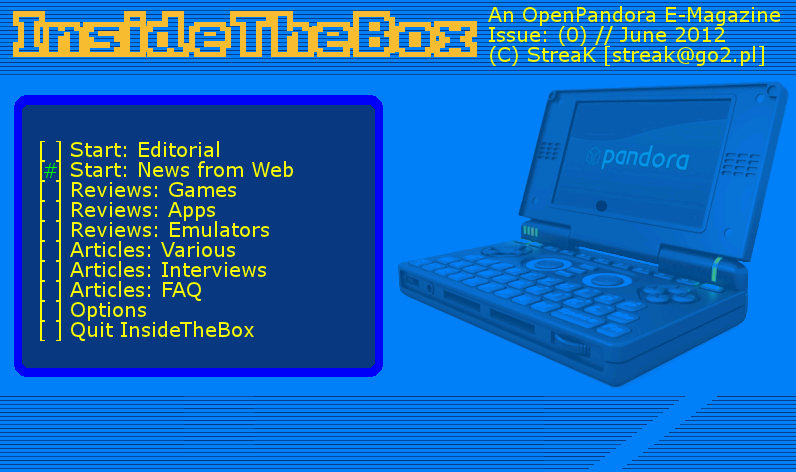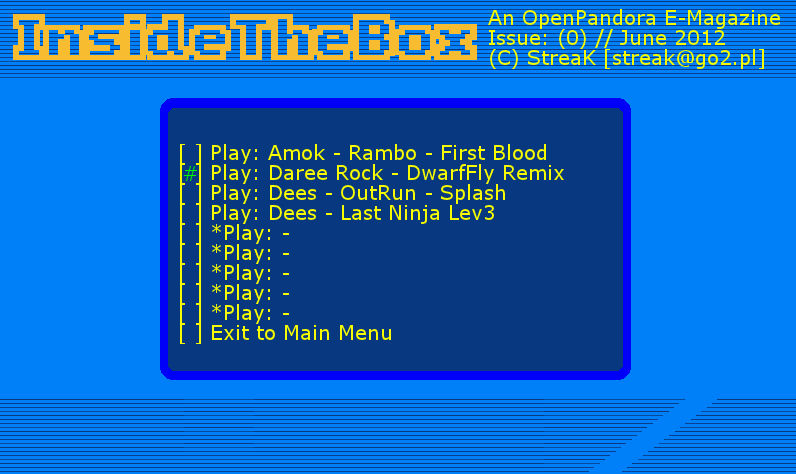 Last edited by a moderator: