Hi
another repackage, this time is
Witchaven
an old DOS game developed by Capstone Software and published by Intracorp Entertainment in 1995, that recently have been ported to Java/GDX by
https://m210.duke4.net/
The game is a mixture of FPS (First-person shooter) with some elements of Action-RPG.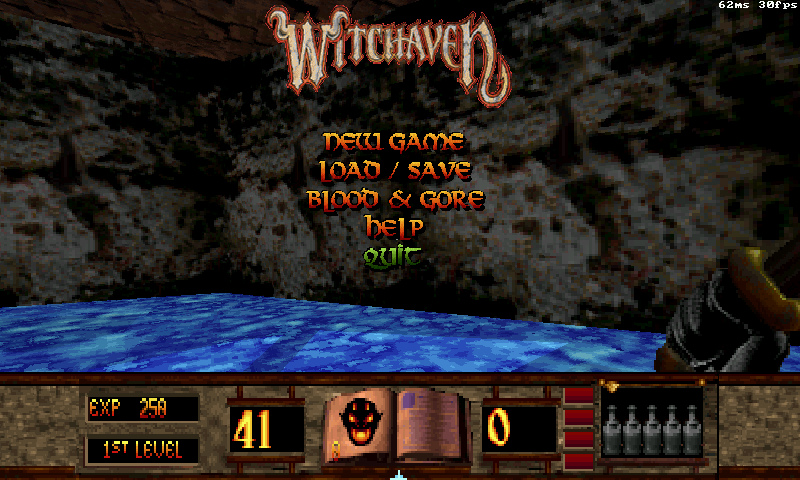 You will need Java installed, and the original data files to run the game. Put the original data files on /appdata/Witchavengdx directory.
There is a preconfigured .INI file that is copied when the game is on a first installation.
Inside the .INI file are configured all the parameters of the game (including the keys used), since the game in current implementation,dosn't have a menu for changing options if you don't like some keys or want to change some option, you need to go to /appdata/Witchavengdx/ directory and manually edit this .INI file.
The current keys used are:
DPAD : movement up-down-left-right
B button : Weapon fire
Y button move view up
X button move view down
A button center view
O : open doors
Space: Jump
P : Crouch
Strafe Left : Left shoulder
Strafe Right : Right shoulder
number keys : select Weapon from 1..to..10
Q : Cast a spell
L-Shift : Run
Enter : Inventory Use item
[ : Inventory_Left
] : Inventory_Right
F1: Scare_Spell
F2: Nightvision_Spell
F3: Freeze_Spell
F4: Arrow_Spell
F5: Opendoor_Spell
F6: Fly_Spell
F7: Fire_Spell
F8: Nuke_Spell
TAB : Map_Toggle
F: Map_Follow_Mode
U : Mouse_Aiming
I : Toggle_Crosshair
INSERT : Fly_up
DELETE : Fly_down
F11 : End_flying
F9 : Quicksave
F12 : Quickload
Pandora port run using GL4ES, libGDX and libLWJGL port done by PtitSeb.
Last edited: