Joined

Dec 19, 2011
Messages

786
Location
EDIT: All cables are sold now.
hi guys,
I have just finished another (and most probably the last) batch of my provisional TV-out cables.
5 pieces
5 meters each
5 € each.
Plus shipping (worldwide).
+1 € for an optional Scart adapter, if you like one.
1 is sold already, so 4 are available.
They are S-Video cables, but can be used in Composite mode, too. For that, you either need an S-Video to Composite adapter (no electronics involved, just wire the Y signal of the S-Video to the Composite signal and ground to ground. Everything else is done in software), or se a Scart adapter and connect the cable to a Scart socket of your TV.
On explicitly S-Video enabled Scart sockets (--[->S] symbol), you can use the cable in S-Video mode,
on standard Scart sockets, you can use the cable in Composite mode.
Only caveat: I didn't have heat shrink tubing left. But the plugs are molded with transparent epoxy, so they look even fancier without tubing. ;-)
Anyone interested, let me know via PM please. First come, first served. Only one cable per person.
Please provide shipping address and let me know, if you need a Scart adapter (+1 €) or not.
I'll announce here, once they are sold out.
Shipping worldwide as a (boxed) standard letter.
Daniel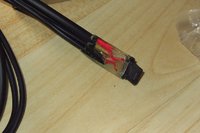 Last edited by a moderator: