Sarcasm Dispenser
Staff member
Joined

Jan 18, 2010
Messages

10,914
Long story short I found my first computer in my Parent's attic when helping cleaning a little while ago or well most of it...
It's a Timex Sinclair TS1000 or a ZX81 known everywhere outside North America. I found it in a bunch of parts, sans case and keyboard, wasn't even sure what it was at first until I looked closer. Not sure what happened to the original casing, but all I can say I was a pretty destructive kid, always taking apart everything when I was young. Honestly these computers are so cheap I could get another working one for 24 US dollars off ebay, but I just felt the need to bring the thing back to life, this was literally the computer that sparked my interest in computers and electronics back when I was a young kid, I wasn't old enough to appreciate it fully. This isn't a restoration, but putting it back into a working order and doing some improvements along the way.
I took it home, hitched it up and powered it on and sure enough I could see the BASIC command prompt on the TV. not bad as it likely hasn't been turned on in around 35 years.
Next step was I replaced the inefficient 7805 with a modern switching regulator, this allowed me to shed the huge aluminium heat sink, which will allow the board to fit into a smaller 3D printed casing I'm still working on. I also put some heat sinks on the ULA chip as it gets pretty warm. As the computer only had RF, I found some pre-made solution that allows proper composite output off of some retro computer site I found.
Then there was the issue of the keyboard it was missing all together, finding a replacement is fairly easy, but the ZX81 and the ts1000 keyboards were those horrendous flat membrane keyboard, so I decided to make my own. Using a bit of Openscad and finishing it Tinkercad I was able to design a simple keyboard plate that allowed MX Cherry key switched to be used, which luckily I have a ton laying around thanks to another unfinished project. I replace the keyboard flex ribbon cable sockets on the motherboard with standard .1 pitch headers which was a lot easier to deal with.
I still need to design the rest of the casing, but it's functionally working now. it may end up being a bit thicker than the original system, but it will have a lot better keyboard.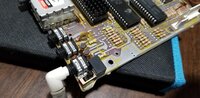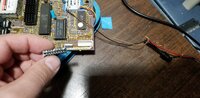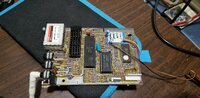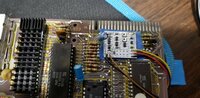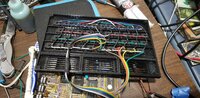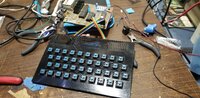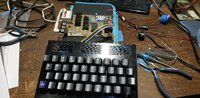 Last edited: