Administrator
Staff member
Joined

Mar 4, 2003
Messages

29,898
Age

44
Location
After spending hours and hours and hours of time,
Nikolaus finished V3 of the main PCB
.
That PCB will be produced during this week and it will be ready for the Gamescom
It's almost the final main PCB revision and will be used to test all functions and find any remaining bugs.
If all goes well, V4 will be the one that is going to be used for the main production!
If you want to see the amount of traces needed to create that PCB... go ahead
(of course, when you are working on it, you don't need to see all traces at once
)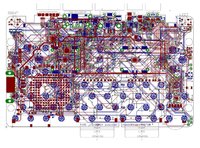 And if you want to see what's taking so long to design such a PCB... how to puzzle a PCB together, so that no traces get in the way of others.
Here is a small video. It's running at 10x speed - so you can imagine how much exhausting work this is!
https://www.youtube.com/embed/Yvm2AiM4F5Q?feature=oembed
Next for Nikolaus is to continue to work on the LCD drivers, so we can finally choose the LCD as well.
And what have I been doing?
After I got back from Montpellier, I started to work on multiple things at once.
T-Shirts and other merchandisings, soon to be available from my shop (probably sometimes August).
Preparing Gamescom, upgrading the server (yep, we moved to a completely new server - with only 30 minutes downtime).
And next up is setting up some GIT / Bugtracker-combined system so we can actively work on the OS and Kernel.
I need more time
Well, I hope I'll see as many of you on the GamesCom as possible!
And as usual: As soon as I've got more to post, I'll do that