Game Developer | Pixel Artist
Joined

Dec 30, 2008
Messages

416
Location
- Rainy Day -
Genre:
Side-Scrolling/Platform game
Graphical Style:
Hand-painted (!)
Team:
Dragons_Slayer(Code, Game Design, Audio), Archibald(Graphics, Art Design)
Engine:
Penjin (by PokeParadox)
Platform:
Pandora
- Story / Setting -
The Game takes place in a (fantasy) world where the weather is controlled by the (good) "Weather Wizard". Everything is fine until one day the Wizard becomes ill... An evil monster bacteria has taken over the wizard's Weather Tower and it has been raining since... Someone has defeat this evil creature and cure the wizard... Who has the courage, who will save our world?
You of course! As the son of a doctor/professor, wielding your trusty umbrella you'll have to make your way to the tower, defeat the evil bacteria, cure the wizard and make an end to the rainfall!
-----------------------------------------------------------
Currently we have a working player-techdemo. Walking, jumping/falling and attacking + collision using B&W mask works. Also wrote a "Textbox Draw System" (which draws text letter by letter) for ingame dialogues. Now working on level-pat switching code.
In terms of art, Archibald already did the designs for the main character/hero and the wizard's tower.
-----------------------------------------------------------
That's all for now, leave a comment if you like and stay tuned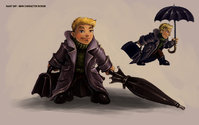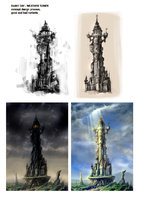 Last edited by a moderator: