Joined

Jan 15, 2006
Messages

3,584
Good morning folk,
after a little while I plan to release a new and finished version of
puzzletube
. I thought the competition would be a good incentive to finally finish some of my work (not to mention the attention I get in a competition in contrast to a "normal" release. Yes, I am an attention whore
). So maybe a second game of mine will be finished this way depending on my spare time, too.
Maybe you are a bit disappointed, that I don't bring you something new, but at the moment I have 5 parallel projects
sparrow3D
Snowman
Puzzletube
Schizophrenia
Schwerkraft
and instead of beginning new fancy stuff with a good or maybe even great idea, which is even so never completed, I should finish at least 2 to start a new one.
So I do. As I said puzzletube is the first one to be finished. That means after that goal I am done with it. Everything is built in, what I want to have. Anything more would be fine - sure - but somewhere the line has to be drawn. Of course bugs still will be polished or if I have a fancy idea to improve the speed I will implemented it, especially if puzzletube profits from sparrow3d improvements. I don't say, that this project will never be touched again. Maybe there will be a puzzletube 2 someday. Maybe... But that will be a new project, IF it happens.
So, what are the great changes for you, which ED demands to admit already released software?
First of all, what I did new until now:
starting of implementation of multi language support (nearly done). This feature was requested by some users, whose moms liked the game, but don't know the English language.
Improved settings menu (with some preview instead of featureless words like "stone quality: flat | bordered | textured"
Bug fixing
Improving of the render quality AND speed
Improved the font with a bit anti aliasing
I don't know, whether I mentioned it sometime, but I changed the highscore system, too. It was to messy, now there are only 4 different kinds of games with two changeable game options: normal or hard and with or without special stones. Furthermore the highscore for each kind of game is trimmed to three entries
I removed the old competition splashscreen
And what will I do the next 2 weeks?
Finish the multi language support. That is a point, where YOU are able to help me. I know only two languages (German and English) and the last one not very well, so I would like you to have a look at the English translation and maybe even to add a complete new language I don't know. That can be any language from Russian over Spanish to Elvish or Klingon. When I release the public beta, I will explain, how the language files work. It is pretty easy.
Improving the help. A Wall of Text is inacceptable.
Custom Music option. Puzzletube will search for music in a well-defined folder and play it instead of the great music of Nick May
High Score goals. At the moment you play for your fun and to challenge yourself, to get better and better. But the goal is, that you have highscore goals like in trackmania. That means, you get a bronze, silver or bold medal, if you reach a given goal. I am thinking about a green medal like in Trackmania, too. But that would mean, that I have to become better than gold first. XD (For people not knowing Trackmania: You get a green medal if you got better results than the game makers)
Making new kind of advertisement for sparrow and this competition.
That's it. I think, I will post a video later today or tomorrow, depending how fast I progress.
greetings,
Ziz
Edit: Hm, at least a pictures of the new version I should post now.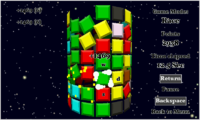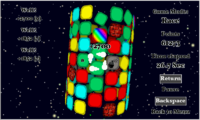 Last edited by a moderator: