Joined

Oct 6, 2008
Messages

782
Location
I hope that this report helps to resolve almost all mysteries related to WiFi issues on the Pandora once and for all!
To cut it short: Power saving is the culprit!
Without
energy management on the internal WiFi
one gets reliable 500-800 KB/sec!
The causal connection is explicit! Have had experience with 3 Pandoras (2 Originals, 1 Rebirth),
now, thanks to
Pandora System Info
 (sysinfo), I eventually got substantiating monitoring data!
Cannot tell about the 1Ghz device though.      
WiFi EXPERIENCE ON MY 3 PANDORAS
I had 3 Pandoras — 2 Originals, and now a Rebirth — and out of the box, WiFi merely worked for all of them! But the good news: It can reliably be solved software-wise, right now only at the cost of disabling WiFi power saving and having a shorter battery runtime, but probably some clever coder can improve the
WiFi power saving algorithm
, which I think, a shrink would describe as "a patient,
with highly suicidal tendencies
". (Explanation further below)  
My first Original Pandora (OP1CC, 2011-05) had bad WiFi out of the box, but after discovering how to disable power saving, it worked fine with speeds about 900 KB/sec. Just my memories, no data noted. Back then, I did not systematically troubleshoot this. Lack of a network link did not catch my attention too much, because there was no PNDManager yet, and also web browsing did not work too well (without memory swap, which I did not know as an improver for web browsing). OP1CC suffered the purple tint of death, and I sent it in for repair.  
My second Original Pandora (OP2CC, 2012-09) was quite bad from the beginning, discharging very quickly, charging badly (interruptions), and WiFi practically unavailable. This was an overall bad board. Too bad it had been sent out. But ok, mistakes can happen. I am forgiving. The service and friendliness of OP/ED is compensating enough!  
Then I upgraded to a Rebirth Pandora (OP3CC, 2012-12). WiFi sucked again!!!    
That meant that the efficiency/networking capabilities the Pandora was advertised for besides its gaming capabilities never were available to me
. I felt disappointed. And angry, that I had to invest hours of troubleshooting even with my 3rd Pandora. Ok — we are nerds and we love tinkering — but a third time again? Christmas holidays, I wanted to finally enjoy my Pandora, my motivation to troubleshoot was close to nil.
But then I felt the challenge, and I went for it! Collected empirical data and solved the puzzle! And I share this with you now!
That's so great about OpenPandora: Community! And awesome battery runtime, controls, sound quality... and more...    
WIFI INVESTIGATION EN DETAIL
I invested dozens of hours in trial'n'error already in 2011 when I got my OP1CC, but now with the meanwhile available excellent monitoring tool sysinfo, I was finally enable to also get some reliable data to back up my suppositions, now on my Rebirth Pandora (OP3GC) with SuperZaxxon 1.52 with the system upgrades up-to-date.  
At first I did everything possible to exclude the possibility that it's a problem of my WLAN, although this was very unlikely, as
all our other households devices always had excellent connections 
(iPhone 3, HTC Wildfire S, MacBookPro, IBM ThinkPad, visiting friends' devices). And the
Pandora neither worked at my home WLAN nor in other WLANs
. Nevertheless! I tried all different channels. I even measured the WiFi penetration in my whole apartment. Nothing helped or brought any insights.    
Web browsing was ultra slow, practically useless. You saw the first chunk of a page, but it loaded endlessly, and never finished, so that the trigger finger itched for a reload. But also those reloads got stuck again. Only once in a few hours of browsing I was lucky to "surf on a seemingly fast wave" and received a complete page.    
Then I set up a
local web server wired to the WiFi router
, and ensured the Pandora was the
only participant of my home WiFi
. I used
wget to download a 1GB file
, created with dd from /dev/random,
to Pandora's /dev/null, so that the SD card is no factor in my test
. Again it mostly stalled or stuttered at best.
Aborting and restarting brought some short time of transmission, but never for long. After a few seconds no transmission anymore. After some minutes again some short spikes, then stalling again. Restarting again and again.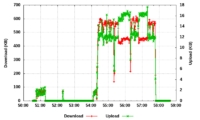 Then one lucky time it got 600 KB/sec.
And it kept it until my server accidentially went down. I could not recognize any logical pattern yet.
I tried several different scenarios, such as attempting to download right after WiFi enabling, after machine restart with auto WiFi enabled, after standby, etc... — and wether this made any difference. I got different results, but I could still not recognize a causal pattern.    
I then disabled power saving. And I got steady 600-800 KB/sec immediately! And always!
After I had paused for a few seconds, but also after I had paused for minutes. And regardless of the previous machine & WiFi state. WiFi was just ready for full speed all time!  
Ok at least that worked. But still I asked myself the question:
Why is WiFi sometimes working with power saving, and sometimes not?
I did the wget test with power saving enabled. Several times. And one lucky time, it started with 70 KB/s, stayed there a while, then increased to 150 KB/sec, kept that speed a while, then reached about 600 KB/s, and then kept it. Permanently! Only a speed drop of 1-3sec every 30-90secs, but always returned back to about 600 KB/sec. Normal network variation.  
Now it all got clear to me: If WiFi connects to a server with a stable high downlink speed and downloads a large file which thus causes a long lasting connection, and this
transmission lasts long enough until reaching a certain critical point, then it reaches a stable condition with a constant proper transmission speed!
View attachment 5039
If the connections are of shorter nature
(such as web browsing, where one page contains numerous small files, which are downloaded in parallel or sequence), or where the downlink speed is bad, that critical point is almost never reached, and
power saving cuts in so aggressively, that it "kills of WiFi, before reaching its potential"
, cutting into its own flesh!  
View attachment 5041
As a shrink would say: "Pandora's WiFi power saving algorithm has serious suicidal tendencies!"
It seems calibrated very badly!!!  
I don't know the inner workings of it, but this is my guess:
The first threshold (concerning speed and/or duration) is set way to high, so that almost none of the legitimate attempts comes through to get a chance of. Power saving seems to suppress almost all attempts, although most of them are no "noise to be ignored", but rather "justified and thus relevant" transmissions!    
COMMANDS USED
On the wired web server:
sudo dd if=/dev/random of=/path/to/htdocs/test/1000mb.bin count=1000 bs=1m
On the Pandora:
Code:
sudo iwconfig wlan0 power <on|off>
Code:
sysinfo: Set interval to 1sec (with key up/down). Watch Network tab or go to the help screen if you want to lower the CPU load. Then start logging (with "L").
Code:
wget http://your-wired-webserver.local/ -O /dev/null
Code:
sysinfo: Stop logging (with "L"). Watch appdata/sysinfo/logs and/or plot with the Pandora System Info Plot App (included in the PND).
GRAPHS:
Powersaving on
Web browsing
Was practically useless.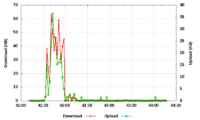 Loading never completes as WiFi croaches or stalls.
Only in a few moments or after several reload attempts, one gets lucky because either the page is very small or some connection luckily "made it through" the improper power saving treshhold.  
PNDManager
View attachment 5041
Was practically useless. Only a few large downloads for which I triggered several reloads, once got onto the "lucky line of the WiFi power management", and then downloaded with an amazing speed.  
Downloading large file from server with guaranteed high downlink speed
(Local server wired to WiFi router without other WiFi participants or reliably speedy download mirror site)
View attachment 5039
Through my research I realized that once a certain critical point of download duration and speed was reached, it then reaches a stable condition with a permanent high transmission speed. In this graph it starts with ~70 KB/sec, stays like this a while, then ~150 KB/sec for a while, then climbs to ~600 KB/sec and keeps it! Just some occasional temporal speed drops here and then, 1-3 seconds of reduced speed every 30-180secs.    
Powersaving off
Web browsing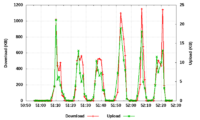 Every page element is loaded at full speed, the gaps inbetween are processing and requesting the new element, perfectly normal.  
Downloading large file from server with guaranteed high downlink speed
No graph needed. I reach an avg of about 600 KB/sec with occasional 1-3 second drops every 30-180secs. Nice!  
QUESTIONS:
How can I permanently deactivate wifi-power-saving on the Pandora?
Will any of these Linux hints work (hook in pm-utils, power.d, NetworkManager)?
Or is there something Pandora-specific to regard?
[*]Nevertheless I would like internal WiFi power saving to work. Is an improvement likely? Could my report and data help to debug?
Would "USB on with an active USB-WiFi-Dongle (with power saving if possible) and internal WiFi off" be as power efficient as "USB off with internal WiFi on with proper power saving"?
[*]Is the WiFi chip&firmware better on the 1 Ghz Pandora?
FILES:
WiFi-powersaving-on-off.zip
 ZIP archive with numerous related sysinfo logs & plots for detailed inspection.
Last edited by a moderator: