Joined

May 30, 2006
Messages

5,462
Location
Website
Ive refreshed the exult pnd for playing ultima 7 and seperent isle.
Its based on the latest git and uses SDL2. I built it with codeblocks and left everything default.
So this means it looks for data under <appdata>/share/exult now instead of the root.
PND Link
Music and SFX are found below. Extract contents to <appdata>/share/exult
Music SFX Link
Note: the intro video is causing a segfault, for now just hit escape before it runs.
Note 2: exult does work with the gog releases.
Sourceforge Download Page for Exult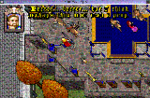 Last edited: