Joined

Mar 3, 2006
Messages

835
Website
Now for a serious attempt at "less eye candy"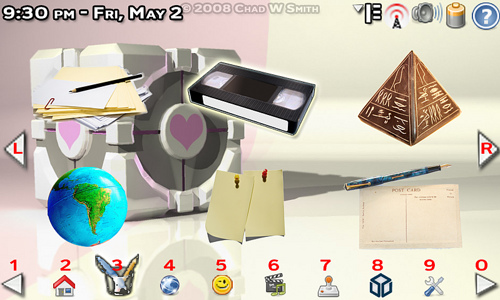 Click for big.
Now, here it is, without tabs, without a background gradient for the center icons, without effects on non-selected icons, without titles ... for anything. Just icons and a labeled controls.
I'm not sure if I like the labeled controls or not - but at least you know what button to press to do what.
The new Smiley is for Communications. I know, it could have been a phone, or a iconized "TXT" or the Skype logo, a radio tower... but I saw a smiley and I used it. sue me.
Better? Worse? Happy? Sad?
BTW - the Tabs are on the bottom so they are easier to click. And, if you have never seen a GUI that put tabs along the bottom, then you've never used Mac OS 9 or earlier. In fact, the tabized folder buttons were so missed by many Mac users, that numerous
apps
exist to recreate the functionality. You could "Tabize" any folder, directory, or drive just by dragging an open window to the bottom or sides of your screen.
click for classic Mac desktop with tabs on the bottom right