Joined

Oct 8, 2005
Messages

13,417
Location
These are the specs for the new Xbox 360, which include a "custom Kinect port," a new system fan that's "as quiet as a PS3," according to Microsoft, and some other noteworthy changes, like the official death of Memory Units.
Touch Sensitive Buttons - turn the Xbox 360 on or off and eject a disc with the swipe of a finger
Whisper Quiet - Whether you're playing a DVD disc or from the hard drive or navigating the dashboard, with the all-new and much quieter Xbox 360, the only noise you'll hear is your own laughing, cheering and playing
Wi-Fi - Built-in 802.11n Wi-Fi for fast, easy connection to your friends and entertainment on Xbox LIVE.
Hard Drive - 250GB internal, swappable hard drive for even more storage. To access, remove the bottom panel by pushing the small tab toward the front of the console.
Kinect-ready - Custom Kinect port on the back of the console that directly hooks up to the Kinect sensor for controller-free fun.
USB Slots - Five USB ports, three in the back and two in the front.
Power Supply - Smaller and more efficient. Xbox 360 250GB and Xbox 360 Original power supplies are not interchangeable.
Wireless Controller - The award-winning Xbox 360 Wireless Controller matches the console in all black with color-matched thumbsticks and directional pad with a touch of gloss and chrome to complete the look.
Backward Compatible - Your favorite accessories and games will work with Xbox 360 250GB. Xbox 360 external hard drives and Memory Units are not compatible.
Under AU $550?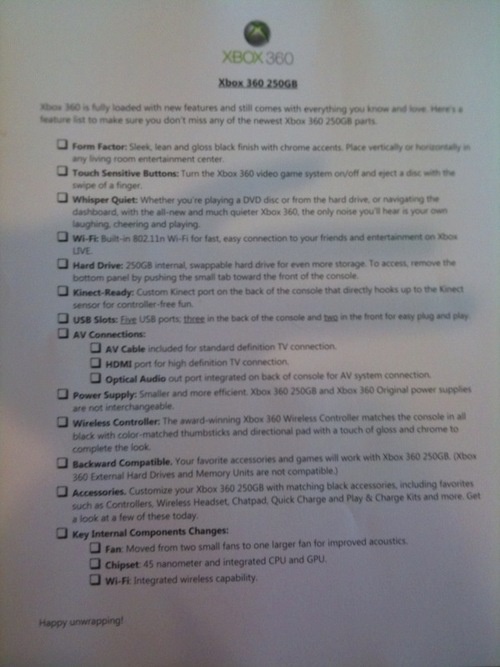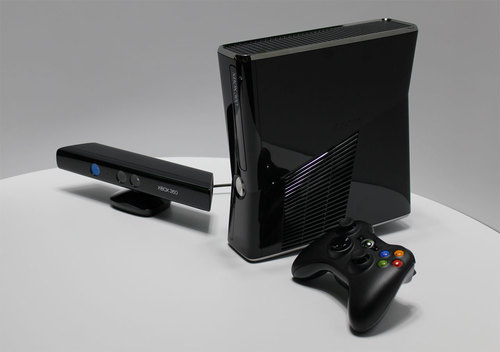 http://kotaku.com/55...-xbox-360-specs
My thoughts;-
A touch sensitive power button was something that the PS3 phat had already achieved in 2006.
Whisper quiet was already what PS3 Slim was doing...last year. Nothing new here.
WiFi - n...not really needed as it's a non-portable console.
Looks like all the current 360 owners who are planning to get this new model will have to use the good old HDD transfer cable thing, if still compatible.
Kinect ready = Meh
5 USB slots? A bit over-kill, don't you think? And they're probably not even USB 3.0 (too expensive to put at the moment?). PS3 had 4 to begin with and removed 2 when the PS3 Slim was released, so once again...nothing really new.
Smaller PSU, but not built in (inside) to the console = FAIL
Controller looks and sounds exactly the same to me, so me. I hate using, as it's uncomfortable as a mofo.
Not 100% backward compatible with current 360 accessories.
Price is too high, imho.