Hi
This is a new release for Pandora :
DIRK DASHING 2: E.V.I.L. Eye Demo/Trial Version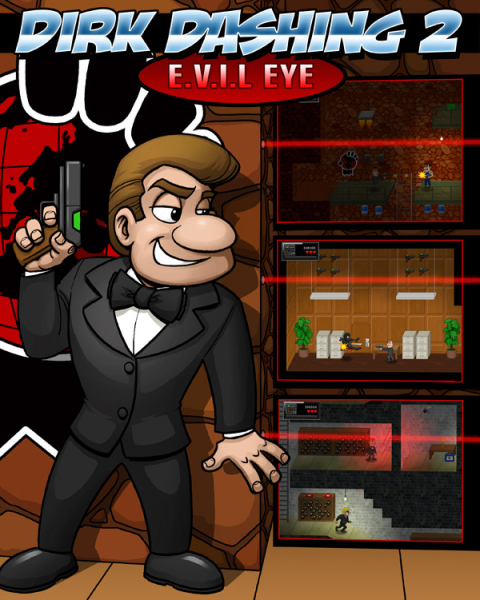 Dirk Dashing 2 is a classic-style platformer with a secret agent theme.
Key Features:
Interactive cartoon antics - you can trick guards into running off ledges, into walls, or into each other
New stealth tactics allow you to sneak unseen and unheard past enemies
40 huge levels to explore, including 5 secret levels, all packed with hidden areas and secret treasures
Hand-painted scenery and animation, done in a traditional cartoon style
An original soundtrack consisting of almost 45 minutes of great spy music
Save your game progress at any point
Play using keyboard or joystick/gamepad
Available for Windows, Mac, and Linux
CREDITS:
-------
Story, Game Design, and Programming: Troy Hepfner
Artwork: Troy Hepfner, Michael Metcalf, Ryan Sumo
Music Composed By: Jesse Hopkins
-------------------------------
Pandora port is based on the 32-bit Linux demo release of the game and run with the help of Box86(dynarec), and the GL4ES library by ptitSeb.
The game need a swap file to run on my CC (don't know on the other models).
Also i couldn't be able to obtain a fullscreen, enabling it on options menu did not work, and controls are not changeable (i don't know if it's a "feature" of the demo).
The game is playable the same but some portion of the grafx are not visible. The speed is good on my CC at stock clock speed.
The original author is not reachable anymore on the web...(sadly) as the game is very good in my opinion.
Controls:
Dpad = move in 4 directions
CONTROL= jump (on pandora is Rear Right button)
SHIFT = walking furtive (on pandora is Rear Left button)
Space = fire and confirm actions
ENTER = show inventory
ESC = go to menu
Last edited: