Is that a Caanoo in your pocket or are you just ha
Joined

Apr 27, 2005
Messages

6,093
Age

32
Location
Website
BBC News 24 said:

At least 31 people have been killed and 10 injured after a gunman went on the rampage at the campus of Virginia Tech university in Virginia, US.

Police say there were two separate shooting incidents - at West Ambler Johnston Hall, a student dormitory, and Norris Hall, an engineering building.
The incidents were about two hours apart. Police say they believe there was one gunman and that he is dead.
It is the deadliest shooting at a US educational facility.
The state university in the town of Blacksburg is home to 26,000 students...
Eyewitnesses locked down inside the university buildings have been using the internet to try to glean information about what is happening and many have emailed the BBC News website.
Nikolas Macko was in a mathematics class in Norris Hall when they heard a series of loud bangs in the hallway which prompted a female student sitting near the door to move to close it.
"She peeked out into the hallway, and saw the shooter, so she immediately closed the door. Three other students moved a table that was in front of the room - it seats approximately 40 students at capacity - and barricaded it against the door.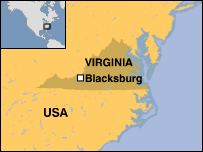 "A few seconds later, the shooter tried to open the door, but my classmates kept it well shut, as they held the table against it from floor level.
"The shooter shot the door twice at chest level, which resulted in two holes in the door, one of which hit the podium in the front of the class room and the other continued out the window. At this point he reloaded, shot the door again - this shot did not penetrate - and moved on to the other classrooms," Mr Macko added
Last edited by a moderator: