Joined

Jun 20, 2011
Messages

3,907
I started up my Pandora, and after a full boot there was 3 colored vertical lines placed random on the display (full opened)... I moved the display a bit and the lines covered ALL the display... then suddenly BLACK SCREEN, burned smell, and the low part of the display begins to become hot, just for 2 seconds anyway...
The Pandora were responsive but the display was black, so I forced the power down. Tried again to power it up and the display was black, but lighted, and the boot process, looking at the leds and sounds was ok...
Now, I tried AGAIN to turn it on to try starting a BLIND VNC session, and the display TURNED ON !! ... BUT SPOILED
See that strange curved lines in the attached picture... them changes a bit if I move the display.
I have seen different topic with similar behaviour, but looking at the images I didn't found the same type of problem... and my Pandora is still working.
I have a Pandora Rebirth, from Craig, received in April this year.
What I have to do ? Is this only an LCD cable problem ? Or can be something more problematic ?
EDIT: now the display is normal... but I see a flash of the vertical lines if I move it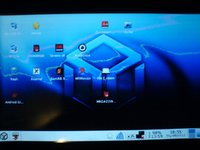 Last edited by a moderator: