Some old news here, but nevertheless:
The ScummVM Team
released the
major version 1.0.0
of the adventure game interpreter
ScummVM
. This includes the
Wiz version
maintained by DJWillis.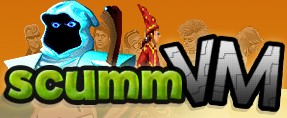 New in version 1.0.0:
General:
- Fixed several bugs in GUI.
- Updated the project logo and icons.
AGI:
- Fixed crash on game exit.
- Fixed crash at detection of some games.
AGOS:
- Fixed load/save code for PC version of Waxworks.
- Fixed undo in Puzzle Pack games.
Broken Sword 1:
- Fixed missing background sound effects in some rooms.
CinE:
- Fixed crashes with Future Wars and Operation Stealth demos.
Cruise:
- Fix freeze on game pause.
Gob:
- Fixed gfx glitch in Lost in Time.
- Fixed hotspot-related regressions in Gob2.
- Fixed several regressions in Gob3.
- Fixed crash in Bargon Attack intro.
- Fixed animations in Win3.1 version of Gob3.
Groovie:
- Fixed menu blanking in some instances.
Kyra:
- Fix possible corruption of restart game save in Kyrandia 1.
- Fix GFX glitch at the broken bridge.
- Fix for brandon tunring invisible in some situations in Kyrandia 1.
MADE:
- Fixed several crashes in Return to Zork demo.
Parallaction:
- Fixed several regressions in Nippon Safes.
- Fixed music in sushi bar in Nippon Safes.
SCUMM:
- Fixed crash on Macintosh versions of Putt-Putt Joins the Parade and Fatty
Bear's Birthday Surprise.
- Fixed game save in Macintosh versions of HE games.
- Fixed default save game path in later HE games.
- Fixed palette in NES version of Maniac Mansion.
- Fixed palette in Amiga version of Secret of Monkey Island.
- Fixed cutscenes not stopping music after pressing ESC in DIG.
- Fixed lip-sync in Fatty Bear.
- Fixed crash in FT when entering inventory.
Tinsel:
- Fixed crash in palace.
- Fixed crash when talking to the old lady.
- Fixed partially off-screen text in DW1.

Some major features of the 1.0.0 release:
Added support for Discworld
Added support for Discworld 2 - Missing Presumed ...!?
Added support for Return to Zork
Added support for Leather Goddesses of Phobos 2
Added support for The Manhole
Added support for Rodney's Funscreen
Added support for Cruise for a Corpse
Broken Sword 1 & 2 now run with original cutscenes
Increased The 7th Guest microscope puzzle difficulty to match original
New port for GP2X Wiz handheld game console.

Some infos about the Wiz port from DJWillis:
This is just a quick post is to announce the 1.0.0 releases of the ScummVM for both the GP2X and the GP2X Wiz following on from the official announcement.

Please provide feedback on these releases and enjoy using them, this is a huge milestone for the ScummVM project and we are all very proud of this release.

New features since the 1.0.0 RC1 for my backends:

Below are the main features and fixes added with this new release from the earlier RC1 release.

Both releases feature additional ARM assembly optimised routines and tweaks to the build system along with a myriad of small 'nips and tucks'.

There are also further tweaks to refine the use of the "Return to Launcher" and "Global Main Menu" features (remember that Left Trigger and Select/Home/Menu will bring up the Global Main Menu in any game).

This is in addition to the hundreds (litterally) of bug fixes that have gone into the core and game engines for this release from the ScummVM development team.

Supported engines:

Both releases feature support for all the game engines that are due to be included with the 1.0.0 release.

This includes support for high resolution games.

Specific restrictions:

Each of the releases has a small number of restrictions that have an affect on the games/engines you are able to use with each platform.

GP2X: The biggest restriction with this platform is the overhead of the scaling when using 640*480 games on the 320*240 screen making such game perform poorly.

GP2X Wiz: The downscaling support is a recently added feature to the Wiz backend and as such some issues still remain with high resolution games exhibiting 'tearing' when updating the screen under some circumstances. Unfortunately this seems to be an exhibit of the Wiz screen tearing bug and while efforts have been taken to minimise it in this release it the problem has not totally gone away.
Source:
here.
Thanks John!
Download:
Archive.
ScummVM Homepage:
here.