The ScummVM Team
and the Wiz maintainer
DJWillis
released the actual
bug-fix version 1.1.1
for the Wiz.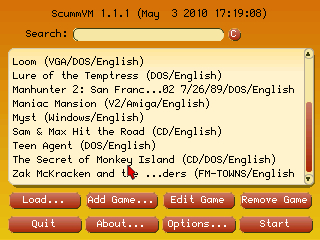 ScummVM: Very belated 1.1.1 release for the GP2X Wiz
While this is a little late to say the least (better late than never and all that, I mean it's only 3 months late Surprised smile) I have finally managed to get my hands on a working GP2X Wiz, some all important free time and motivation, and built up and tested the GP2X Wiz backend for the 1.1.1 release following on from the official announcement.
This post is also an announcement of the GP2X backend release as I forgot to post about it at the time despite the fact it got uploaded and released only a few days late
.
I have not had a great deal of time recently to work on these releases so the backends are largely the same as the previous releases with just the needed changes to support all the fancy new things in the ScummVM core. No reworking of the control system or the like has been done yet (it's still on my TODO).
Some of the highlights of the changes 1.1.1 bring, that benefit the GP2X and GP2X Wiz, include 2 completely new engines and games, Dragon History (available free from here) and TeenAgent (available free from GOG.com). Also new is 16bit graphics support, which allowed us to add support for a whole bunch of newer Humongous Entertainment games for kids and improved support for the Amiga versions of Monkey Island, Legend of Kyrandia and Future Wars.
Please provide feedback in the usual places on these releases and enjoy using them.
Changes:
1.1.1 (2010-05-02)
General:
- Fixed several minor bugs here and there.
Drascula:
- Fixed regression that caused some texts to always be in English, even when
using another language. (#2970211 - DRASCULA: missing german translation)
KYRA:
- Fixed a bug which caused the DOS versions to crash before the credits when
AdLib music is selected.
LURE:
- Fixed several memory leaks.
- Corrected problems in the handling of followers when blocked from performing
actions by closed doors between rooms.
- Solved issues with Goewin not always correctly following the player out of the caves
Tinsel:
- Fix video playback regression in Discworld 2.
Parallaction:
- Fix several crashes and other regressions in Nippon Safes, including
bugs 2969211, 2969232, 2969234, 2969257, 2970141.
DJWillis Homepage:
Link.
ScummVM Homepage:
Link.
Download:
Archive..