Joined

Dec 28, 2006
Messages

3,030
I've had this idea in my head for a while now, and I'd like to discuss it and see what you guys think of it.
(very crude picture)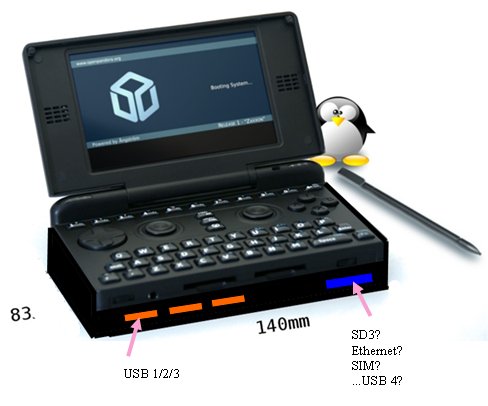 It's basically a portable USB hub & extended battery that the Pandora could slide into and connect via the 2 usb ports.
Broken down into two functions which could work independently of each other:
Battery Extender
The unit would feature its own internal battery and charger of a similar, or preferably even slightly larger, size as the Pandora's internal battery. This section of the unit would be connected via the Pandora's mini-usb port, meaning it can act as a transparent power supply keeping the Pandora's battery 'topped up'. Effectively this should almost double the battery life of the Pandora.

You could in theory charge both this and the Pandora at the same time by plugging this into the mains, then connecting to the Pandora's mini USB port.

The USB connectivity would have the side affect of making it able to used as an external batter/charger for a variety of other USB devices.
USB Hub / Docking Station
The built-in USB hub would connect via the Pandora's main USB hub and, in addition to providing 2-4 USB Ports, it would also obviously remove the USB 1/2 issue. Using standard-off the shelf usb hardware the unit could provide either 4 USB ports, OR 3 USB port and an additional accessory, such as:

Additional SDHC (SDXC??) slot


Ethernet

SIM-Modem

??? You tell me!
If another USB port was sacrificed then it could also be possible to use the extra space at the back of the unit for L2 & R2 buttons.

so the options would be: 4 USB Ports, 3 USB Ports & and Accessory, 3 USB Ports and additional shoulder buttons, 2 USB ports with an accessory AND additional shoulder buttons.
So I'd like to know what you guys think. Specifically:
Would you be interested in purchasing one of these?
What do you feel a reasonable cost would be for such a unit?
Would you want the unit to feature the additional shoulder buttons, and how much of an impact would that make on your decision to buy?
Would you like to see one of the additional USB accessories included? Or is it better to have the additional USB port?
Clearly this project is only in the initial idea stage. It'd be crazy to progress with it until there is a decent amount of units out there, and stabilized production. But this dead-time is a great time to be doing the appropriate research! I also need somebody to work with me on designing the battery/charge circuit as this is beyond my expertise. I hopefully have somebody to help with case design/creation.