Joined

Feb 28, 2008
Messages

7,461
Age

44
Location
Website
Update (October 7th 2009):
The original guide (below) describes how to modify your theme manually by replacing image files. There is now an Open2X ready version of the Liquido theme with a .gpu installer, courtesy of Bman. Download here: http://dl.openhandhelds.org/cgi-bin/gp2x.cgi?0,0,0,0,67,2801
============== Original Guide ===========================
If you've recently installed Open2x and want to change your theme, this thread is for you. Those who know their NAND (mostly F100 owners) will probably be like "well, duh." This guide is for NAND newbies. A few notes first:
- To the Open2x team: There's nothing wrong with the default theme, it's delicious actually. But you know how much we like to tweak.
- This is a very basic theme change, the icon set will not be changed.
- The job involves accessing the root file system, where doing the wrong thing is bad. Take your time and stick to the folders specified and you'll be safe.
Ok. Here's what we're doing in a nutshell:
- Replacing wallpaper
- Replacing topbar.png
- Replacing bottombar.png
Each file needs to be copied across individually. To do this you need a file explorer that will copy between SD and NAND. Open2x has two file managers built in; "Explorer", the classic explorer/launcher that has access to NAND & EXT, and "FileManager", a re-badged version of Enexfi which only explores SD by default (for newb safety). You'll need a new copy of Enexfi installed on SD, so you can tweak it for NAND access.
http://archive.gp2x....?0,0,0,0,8,1888
CODEhttp://archive.gp2x.de/cgi-bin/cfiles.cgi?0,0,0,0,8,1888
You need to edit the .ini file, but it won't create this until it's been installed and run. Do that, then change the following line in the .ini file:
CODEversion: normal
to
CODEversion: nand_access
We'll do the wallpaper first, because it's the simplest. Find yourself a nice 320x240 png and put it in SD/photo.
Here's a quick rundown on using Enexfi. Please read the readme as well.
QUOTED-pad to navigate, B is the "action" button, X changes the active function (explore, delete, copy etc). You'll be in Explore mode by default, so you can navigate with d-pad and select folders with B. But when you press X to change modes, the function of the B button changes too. So get used to exploring with d-pad and A, because A will never change.
- Using D-pad and A, navigate to your new wallpaper.
- Press X to cycle through the functions until you're on Copy
- Highlight your wallpaper and press B. Enexfi will ask for the destination.
- Using D-pad and A, navigate back to the top level, then to root/usr/menu/skins/default/wallpapers
- Press B to paste
- Press Start to exit
Now go to the Gmenu2x Settings section, and change your wallpaper.
Once you've done this successfully, you know all you need to change topbar.png and bottombar.png as well. Find them in root/usr/menu/skins/default/imgs, and copy them one at a time to SD/photo. You'll be overwriting these on the NAND with the new versions later, so back them up!
What you replace them with is up to you, as long as they have the same file names. Here are the two I'm using for now, I've just thrown the existing ones into Photoshop then desaturated, colorised to hue 190, and set opacity to 60%.


And here's a screenshot of the end result: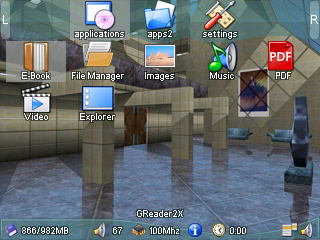 And there you have it. The longest wall of text you'll ever need to replace three images.
Last edited by a moderator: