Administrator
Staff member
Joined

Mar 4, 2003
Messages

29,787
Age

43
Location
Well, it eventually had to happen sometime after the case data has been released:
Someone offered to create an Aluminium case for the Pandora - and I'll support him to sell it.
The aluminium case will be hard-coated and nearly invincible to scratches.
There'll be two colors available: Pearl Mouse Grey (with a slightly green touch, see attached picture) and Jet Black.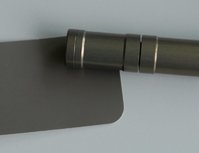 Other colors are not possible (that's the technical limitation of he hard coating)
The case will cost 99 EUR (incl. VAT), which is production cost price (no profit being made by anyone here).
In case you're too scared to swap the case yourself, we'll offer a service to do that for you for 30 EUR.
Of course, you can add any other items and accessories in our shop as well for your order.
The cases will be ready after about 4 weeks, but production wiill only be started when we get at least 100 orders (to cover the one-time tooling costs).
I'll start a preorder for that soon, and of course if the case won't be produced, you don't need to pay anything (or will get your money back if you already paid for it).
There's one catch though:
As aluminium shields like hell, we cannot guarantee Wifi will be working as good as before.
We're trying to put some plastic inlet there to make sure Wifi works, but we can't test it before we got an actual case.
So this might need some modding afterwards.
Of course, Wifi USB Sticks are not affected.
Last edited by a moderator: