Feels like christmas - the #Pyra can be used for blinking lights on your christmas tree
This video proves it! https://youtu.be/BqtoQz94Ngc
Fühlt sich wie Weihnachten an - die Pyra kann als Blinklicht auf Deinem Weihnachtsbaum genutzt werden
Dieses Video beweist es!
[youtube]BqtoQz94Ngc[/youtube]
Screen working as well on the #Pyra prototype. There's also a menu in the white box but the camera didn't capture it
Bildschirm arbeitet auch schon auf dem Pyra Prototypen. Es gibt bereits ein Menü in der weißen Box, aber die Kamera hat es nicht aufnehmen können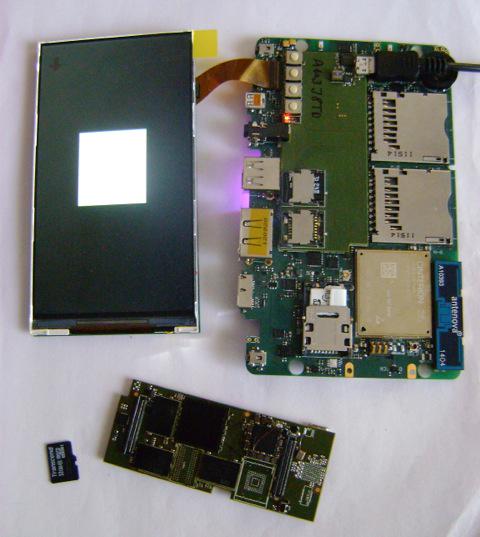 Playing and working at the same time? Yes, the #Pyra can do that for you
https://youtu.be/F1ccK1aX4OY
Spielen und arbeiten zur selben Zeit? Ja die Pyra kann das für Dich
[youtube]F1ccK1aX4OY[/youtube]
Here he posts a video of #StarCraft running on the #Pyra
https://youtu.be/IFM4qYXRXig
Hier postet er ein Video wie StarCraft auf der Pyra läuft
[youtube]IFM4qYXRXig[/youtube]
Here is Jagged Alliance 2! https://youtu.be/DipFskLdQB0
Hier ist Jagged Alliance 2!
[youtube]DipFskLdQB0[/youtube]
Here is Nox on the #Pyra - a Windows game running using ExaGear and Wine. Using SOFTWARE 3D (not yet hardware 3d!) https://youtu.be/XJ9NyuAGhQU
Hier ist Nox auf der Pyra - ein Windows Spiel, läuft mit ExaGear und Wine. Nutzt SOFTWARE 3D (bisher keine Hardware 3D)
[youtube]XJ9NyuAGhQU[/youtube]
Unreal Tournament on the #Pyra. Again, with software 3D. https://youtu.be/f45XMwRoIUQ
Unreal Tournament auf der Pyra. Wieder mit Software 3D.
[youtube]f45XMwRoIUQ[/youtube]
Dungeon Keeper 2 on the #Pyra, anyone? https://youtu.be/gewVNS45Nis
Dungeon Keeper 2 auf der Pyra, will jemand ?
[youtube]gewVNS45Nis[/youtube]
In production: Keymat. Three keys already with plastic cap, the mould for space needs to be fixed.We're getting there
In der Produktion: Tastaturmatte. Drei Tasten sind bereits mit Plastikkappen, die Gussform für "Leertaste" muss noch nachgebessert werden. Wir kommen näher