Joined

Jan 4, 2004
Messages

314
Location
Website
Super Mario All Stars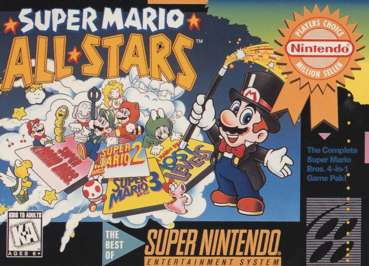 First of all, I would like to say that this game is one of my all time favorites for SNES and because it has so many choices of games considering that is an older one.
It includes Super Mario Bros. 1, 2, 3 and the Lost Levels. Super Mario All Stars incorporates great remakes of all these classic games and puts them into one easy to use interface. Because I don't have the time to review every game individually, I will give the GUI and the quality of every game a rating.

The Graphical User Interface (GUI)

Graphics: 8/10
The selector graphics are very good, a picture of the box of each game is given and the titles are located below them. Even though these are included the backdrop is left blank, leaving the entire scene a little bland.
Gameplay: 9/10
What is there to say? The game selector is very easy to use and is easy to see.
Sound: 6/10
Although basic, sound is not needed at the begining of the game at the selector as much as at other parts of the game.
The Games

Graphics: 8/10
They represent the graphics quality of traditional Mario games.
Sound: 7/10
You can tell that Nintendo invested much time into developing the sound in these games, although they are rather simply by today's standards.
Gameplay: 9/10
Gameplay is very addictive and with hours of enjoyment in every game, where can you go wrong? :rolleyes:
GP32 Playability: 7/10
While this game can run quite slow at clock speeds below 150 mhz and anything under frame skip 1, running at 156 mhz can allow it to run at almost full speed.
Over all I will award this game with a rating of 8/10 because of the ok GP32 playability, great graphics, gameplay, and sound.