Hello, there is Simon Tatham's Portable Puzzle Collection (STPPC) port for caanoo 30 logical games-in-one. There is gp2x-source based port.
Author of original game: Simon Tatham
Authors of puzzles code: Simon Tatham, Richard Boulton,
James Harvey, Mike Pinna, Jonas Kolker,
Dariusz Olszewski, Michael Schierl,
Lambros Lambrou, Bernd Schmidt, Chris Boyle.
Maze3D Puzzle: Edward Macnaghten.
GP2X/SDL Port, implementation of Mosco:
ledow (www.ledow.org.uk/gp2x)
Menu graphics/code: juanvvc
Recompiling from PC source, right-click touch and caanoo joystick binding: me=).
There are 3 alternate controls: by touchscreen (with pressing "Help I" button touchscreen will produce right click), by joystick-control mouse cursor, and simply by joystick. You may choose it in options, also you may choose difficulty of all games.
All games (but sudoku not yet) are playable.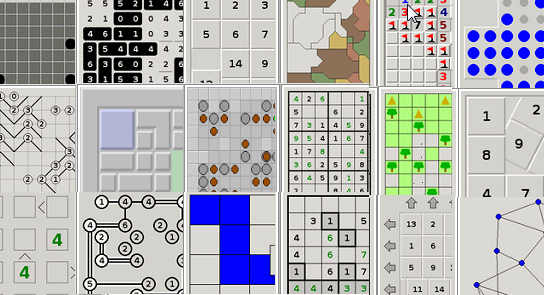 You may download it here: http://dev.emulate.su/downloads/stppc-caanoo-29-11-2010.zip
Sorry for my poor English.