Joined

Jan 6, 2008
Messages

430
Age

43
Location
Website
I'm now releasing my entire progress on porting Simon Tatham's Portable Puzzle Collection to GP2X. This is a a set of 27 addictive logic and puzzle games. Some are old favourites (like sudoku, sliding puzzles and minesweeper) and others you may not have seen before.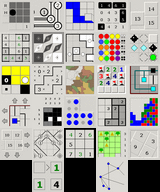 This is the first beta release of the entire collection of the games, which I now call "STPPC2x". This beta has 21 fully-working games, the rest are in various states but only two are completely unplayable on the GP2X - mines and pegs.
If you tried the earlier test releases, these games are now in a *much* better state, with vastly improved cursor control. There are also full instructions, buttons mapped for "solve" and number-entry, game-status text, game icons and lots more.
Feedback is appreciated (especially from F-200 and USB mouse users) and full source code is available from:
http://www.ledow.org.uk/gp2x/
. I'm also looking for help from any SDL/C coders to fix the rest of the games, create a nice menu, add some more features, etc.
Note that this is an unofficial port - so please don't bother Simon Tatham with any problems, although he is aware of the project's existence.
You can download STPPC2x here:
http://archive.gp2x.de/cgi-bin/cfiles.cgi?0,0,0,0,25,2532