Hi guys, I bought this particular model from existing member pauljh (see topic 
http://boards.openpandora.org/topic/17942-fs-pandora-1ghz-bundle-free-uk-pp/#entry378761)
/URL]and i've had a bunch of fun with it however circumstances in my life dictate I must now reluctantly get rid of it, has not been used more than half a dozen times since purchase but enjoyed it very much.
I have taken my own photos & added in my name as per rules of the board. Rest of the photos are up on the listing. 
Selling on eBay for 400 (
http://www.ebay.co.uk/itm/261937837056?ssPageName=STRK:MESELX:IT&_trksid=p3984.m1555.l2649
) but for this board i'd take 380 including P&P. 
Open Pandora 1Ghz Portable PC in great condition (some minor scratches to the case, see photos)




Original Box for Pandora

Wooden storage box, signed by Evil Dragon

Pandora Logo'ed black carry pouch

Travel AC adaptor

UK Power Adaptor

Second battery in Pandora marked silver case

Lexar 64GB SD Card (guaranteed to work with Pandora)

Sandisk 128GB SD Card 

(guaranteed to work with Pandora)

Silver Mini 32Gb USB Drive

Official Pandora TV Out Cable

Official XStylus Crayon (Twin Set)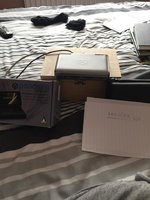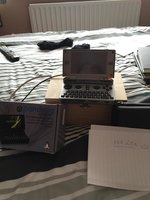 Last edited by a moderator: