Non Session Manager 1.2.0.11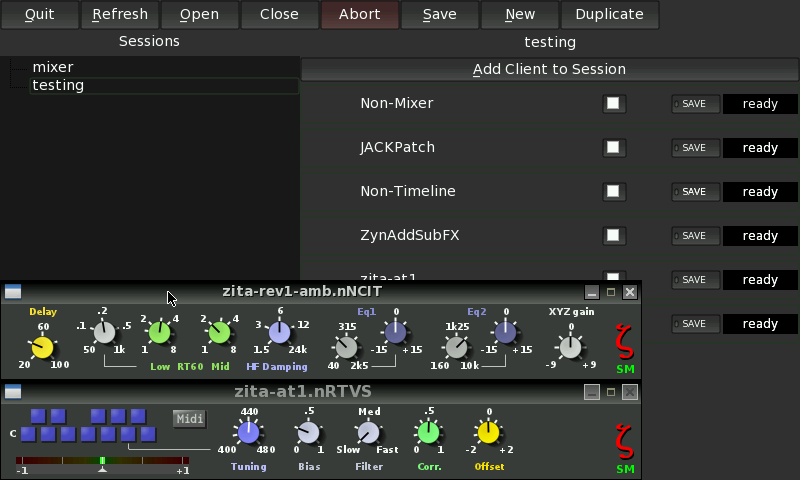 The Non Session Manager is an API and an implementation for session management in the context of Linux Audio. NSM clients use a well-specified OSC protocol to communicate with the session management daemon.
Changelog
1.2.0.1
- Initial release. Needs QjackCtl.
- Included Non-Mixer, Non-Timeline and Non-Sequencer.
1.2.0.3
- Fix support for flac and ogg, thx to debian ARM libs.
- Added Steve Harris LADSPA plugins.
1.2.0.4
- Added ZynAddSubFX synth, zita-at1, zita-rev1 with support for NSM.
- Previews updated.
1.2.0.5
- Added Jack Time Machine.
- Optimized ntk libs.
1.2.0.6
- Fixed little mistake with sndfile lib, sorry...
- Added Guitarix ladspa plugins.
1.2.0.7
- Added QmidiArp.
- Removed Jack Timemachine.
- Compiled with jack latency support and new Jack lib.
1.2.0.8
- Updated to latest git sources, mostly fixes.
- Updated libs.
- Added AlsaModularSynth.
1.2.0.9
- AMS and Qmidiarp compiled with new QT 4.8.6 version.
- Zynaddsubfx compiled with fltk.
- Updated LADSPA plugins: Guitarix 0.32.1 and CAPS 0.9.24.
1.2.0.11
- Updated Non to latest git version.
- Updated ZynAddSubFX 2.5.2 and Qmidiarp 0.6.3. Removed AMS.
- Updated libs, compatible with latest QjackCtl PND.
https://repo.openpandora.org/?page=detail&app=non-session-manager