Joined

Jun 9, 2003
Messages

1,712
Website
Last Updated: 11/2/2005 (newest updates in
blue
)
GP2X BASIC FAQ
The GP2X is a Linux based handheld game console and media player, designed & manufactured by the South Korean based company, GamePark Holdings (GPH for short).
GPH is comprised of the same design team that created the venerable GP32 handheld console, which became popular amongst homebrew and emulation circles around the world.
Link:
GamePark Holdings GP2X Official Site
This is not to be confused with the
GamePark
XGP, which is planned as a 3D oriented commercial based games handheld console similar to the PSP. XGP is expected to come out sometime in 2006. Some (rather ugly IMO) prototypes were recently shown. See here for comparisons between XGP and GP2X:
http://www.gp32x.de/gp2x.php
(
link fixed now
)
Adding to the confusion, GamePark and GamePark Holdings are two different companies. Basically the original GamePark split up, due to differences in philosophy. The people left at GamePark want to create something to compete with Sony and Nintendo, and are NOT interested in emus or homebrew. The people at GamePark Holdings wanted to make a new system specifically aimed at the GP32 audience, with full support for open development of emus and homebrew. That is how the GP2X came to be.
Release Date:
2005, Late October - Early November. There is no exact day/time.
Specifications:
extracted from
http://www.gpx2.com/product/product_spec.asp
and updated with some more recent information:
Product Name: GP2X-F100 General

CPU: Dual cores, ARM940T @ 200Mhz + ARM920T @ 200Mhz

Dimension  143.6mm* 82.9mm*34mm 

Mass (w/o batteries): 161g/5.68oz (GP32 NLU: 163g/5.74oz)

RAM  64Mb 

Storage  SD Card 

Connection Type  2.0 high speed 

O/S  Linux 

Power supply  2AA 

Display  3.5" TFT LCD 

Resolution  320*240(QVGA) 

Video

Video Codec support: MPEG 1, 2, 3, 4, DivX 3.11, 4.x, 5.x and higher, XviD, WMV (7, 8, 9 Series by 'After Support')

Format support: AVI, MPG, MPEG

Audio Formats: MP3, OGG, WMA (by 'After Support')

Resolution  MAX 720*480 

Frame Rate  Max 30 fps 

Bit Rate  Video Max: 2500Kbps, Audio Max: 384Kbps

Caption  SMI 

Audio

No. Channels  Stereo(L+R)

Frequency Rate  20Hz~20KHz 

File  WMA,OGG,MP3

Bit rate sampling  16bit/8~48KHz  

Equalizer  Normal, Classic, Rock, Jazz, Pop 

Additional Function

e-book, game,

e-Dictionary (planned for later release) 

Image Viwer

Image Formats: JPG, BMP, PCX, GIF, PNG

Continuous playback time

Battery Life (2 x 2850mAh AA): 6 hours video, 10 hours audio

[/color]
Price:
under $200 - each store will have their own prices and deals.
Stores:
http://www.gp2x.co.uk
- official UK distributor (same as
http://www.gbax.com
)
http://www.gp32z.com
- official USA distributor
http://shop.gp2x.de
- official German distributor
More here:
http://www.gpx2.com/support/support_sugest...unho=14&part=00
What's In The Box:
According to
gp2x.co.uk
the GP2X comes with the following in the box:
GP2X console (With 64M Internal Storage)
USB Cable for PC connection (With 2.0 Support)
Preloaded Linux with Media player (MP3, Divx, WMA etc.)
CD with Games, Utilities, MP3 player, Movie player
2 * AA batteries
SDK - Make your own games!
And according to more recent information from GPH the box might include:

1) GP2X system
2) Screen protector
3) Wrist strap
4) Carry bag
5) Microfibre cloth wipe
6) Instruction manual
Case Colors:
The GP2X will ONLY be available in black at first. There
may
be other colors in the future but it's not guaranteed. This is what the unit will probably look like when it's released:

Emulators:
There are emulators in the works and being planned for many systems. Some may be available at GP2X's launch, others afterwards.
See here for a list of some projects currently underway.
Games:
aside from homebrew games, there are some plans for commercial games.
See here for a list of some projects currently underway.
Backwards Compatability:
currently the GP2x is NOT backwards compatable with GP32. There is talk of creating a way to run GP32 programs, but for now it's only talk and may never really happen. However, the GP2X is expected to have a very exciting homebrew & emu scene of its own.
Screen:
3.5" backlit LCD. 320x240 resolution. NOT a touchscreen. If you want a PDA, get a PocketPC, Palm or Zodiac device.
TV-Output:
Yes, the GP2X will be able to plug right into any television using a special tv-out cable adapter which will be sold seperately. It is said to output S-Video. GPH tells me that no extra power is needed to use the tv-out cable, the GP2X's batteries are enough.
The cable will ready when the GP2X is released, and the price is expected to be under $10.
Also, videos encoded at high resolutions will be displayed at their full resolution with tv-out (not scaled down to just 320x240).
Controls:
8 way DIGITAL
(it's NOT analog) thumb stick, 4 main action buttons in diamond pattern, 2 shoulder buttons, Start, Select and 2 volume buttons.
I/O Ports:
Headphones, USB (not powered), EXT, DC Power (possibly SDIO in the future)
*note* it may be possible to use self-powered USB peripherals with GP2X, i.e. USB hubs & harddrives etc.
USB Peripherals:
Recent information unfortunately reveals the GP2X does NOT feature USB host mode due to the chip implementation used in the final design.
Media:
GP2X uses Secure Digital cards AKA SD. These are relatively cheap, and come in very large capacities (up to 2GB and 4GB now). SD cards are also very popular, and can be used with many PDA's, cameras and other electronics. There is also some internal storage space on the 64MB NAND memory, but it's unknown how much will be available to the user for storage. MMC cards should also work with the GP2X, but SD's are faster and come in larger capacities.

Pictured: Yep, that's what an SD card looks like.
Multiplayer & Networking:
The GP2X has no form of built-in wireless, nor are there any announced plans for a multiplayer cable of some kind yet. But it's certainly a possibility. It may also be possible to use SDIO WiFi cards in the future, but right now it's all speculative.
Power:
The GP2X uses 2 AA batteries as its primary source of power,
providing approximately 6 - 10 hours
of continuous use depending on application. Keep in mind, there are now very good and very economical rechargeable AA's, which I've personally used for several years. For some examples, see
http://www.thomas-distributing.com/ansmannproducts.htm
- I have never personally bought anything there, but it's a good site to learn about what's available.
The GP2X can also use an AC adapter - here is what Squidge, a well known developer with a GP2X test board says about AC: "GP2X is 3V Center negative. Exactly the same as the GP32. Power for USB host is not connected."

Pictured: rechargeable AA's rock!
CPU/Memory/Graphics/Audio Chip Overview:
According to doumentation the GP2X hardware "incorporates a Dual 32bit CPU Processor, Video Processor, Video Post Processor, 2D Graphic Processor, Image Signal Processor and a variety of I/O peripheral components" including an AC97 based audio chip.
Each of the two ARM CPU cores is clocked at 200Mhz, and there is 64MB RAM and 64MB NAND flash memory. The graphics processor can accelerate 2D graphics, and process various video and image formats. There is no 3D acceleration, however software based 3D is entirely possible - IMO from the specs we have I would imagine that PS1/Saturn quality 3D should be possible. Think original unaccelerated Quake at very playable speeds. Not so bad, eh?
Operating System:
GP2X is Linux based. This does NOT mean you must use Linux on your PC to interface with your GPX2. Also, since the GP2X can boot from SD cards, theoretically the GP2X could run any OS adapted for it, or even no specific OS at all (i.e. simple bootstrap to directly access hardware). The firmware is flashable, so your GP2X can easily be updated.
Development:
At first you can use
SDL
to develop GP2X apps. There are also plans to create SDK's to allow devs to access the hardware more directly, hopefully to take full advantage of the dual CPU cores. There will also be an official GP2X SDK from GPH in the near future. You might also like to read about the SOC (system on chip) the GP2X is based upon:
http://www.mesdigital.com/support/downfile...20f_pi_v016.pdf
DRM (digital rights management):
GPH has a DRM ready for selling commercial games (probably similar to how the DRM worked for GP32 & Zodiac). This does NOT affect MP3 playback, and no you don't have to buy emulators. It's just to encourage professional game developers to consider making GP2X games because they know there is a form of piracy protection in place for the system. This information has now been 100% confirmed by both
GamePark Holdings
themselves, and the
official UK GPH
distributor. Here is a quote from Anna Hong, a GPH representative:
There have been many complaints about the DRM function with the Gp2x so let me explain exactly the purpose for the DRM.

We will only be using DRM for commercial games that we distribute through our website.

DRM will not effect anything else, it will be used the same way as the Gp32.

There is nothing to be scared of!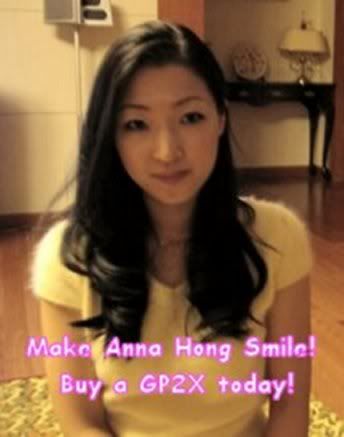 Pictured: The lovely Anna Hong from GPH!
See more photos of Anna
here
!
Comments? Questions? Post below...
Last edited by a moderator: