Joined

Jul 30, 2006
Messages

215
Age

35
Website
Hi everyone!
I'd like to announce that version 1.01 of W&W is out!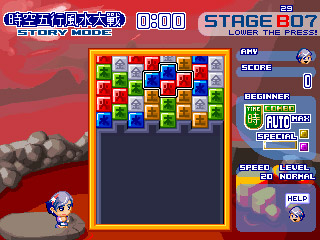 Most suggestions have not yet been made (changes below), but most bug fixes are corrected. This is minor update (yet important), and the reason for this update is that I will going to Japan for almost three weeks on Monday (from Sep. 3 to 21), and maybe I won't have time to work on W&W
(It's most likely that I will have at least a little time, but better safe than sorry!)
To download this patch, login to the website and go to the downloads section. You can either download the GPE file and replace it, or download the whole ZIP again. Only the GPE file changed! Replace the old GPE file with the new one, and don't forget to backup your .esav file just in case
Please update your version of W&W ASAP, the GPE file is pretty small so don't worry about having to download the whole thing again!
Changes for v1.01:
----------------------
- Story Stage B02 bug
- Puzzle Mode final stage bug
- Hi Full Combos were not counted (they count now
)
- Story Stage E03 missing press
- B or X button can continue story dialogues
- TIME ATTACK and ENDLESS scores are now saved (please re-check, I checked but just in case)
- Hi Elementals in the game stats have been corrected
- Last world's Stage 09 did not open the secret stage
- C07 missing time corrected
- Last medal was not working (nobody has it yet anyway
)
- Global Story Rank recalculated
Online Stats:
- Hi Full Combo works
- Global Rank has been changed
For both of these to have effect, you need to re-upload your save. Remember that hi full combos were not counted, so you need to start making full combos!
Also, to test that these were working, I uploaded
my save
the Chain and Time Chain records are a little scary (
see the top stats
), not for the light-hearted! I will be removing my save file tomorrow, just wanted to check that everything is OK
(And, if anyone asks, I made the score playing the same version as everyone else does, and with the MK2 stick)
Thanks, and please let me know ASAP of any weird bug that appears since today is my last day around! (Well, for three weeks
)
Keep enjoying W&W!