Joined

Nov 29, 2011
Messages

10
Hey all!
I'm a new member here at gp32x.de! It's great to be here.
I have a burning question, since I've taken an interest in the CAANOO. One which may seem very simple to the expert users but is actually very difficult to find concrete information on for a noob.
What colours does the CAANOO actually come in?
After checking numerous sites and eBay selling the CAANOO, I initially thought there were 3 colours. White, Black Only, & Blue/Black.
But, after looking for some time (and watching an overview by engineer by Mike Mroczek) it seems there are only two colours. White and Blue/Black.
I also found two model numbers for the CAANOO.
CA-100 :: Blue/Black
CA-101 :: White
CA-??? :: Black Only?
However, I've seen many photos like this:
CA-100 - Blue Black

CA-??? - Black Only?

Is there really a Black Only model, or is it just fantasy?
ALSO - Why do some White GP2Xs have a grey analog stick, and some have a white analog stick?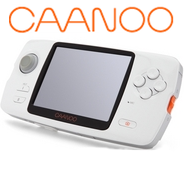 Why do some of the black models have a white setting behind the A,B,X,Y buttons, and some have black?
Sorry for my curiosity and silly questions.
I guess this is the best place for concrete info and closure on this.
Kind regards,
Chris.
Last edited by a moderator: