Joined

Jul 23, 2011
Messages

26
/>

please inform as to where can buy mobile telephone STOP sent from local post office using teletype machine STOP

bwahahahaha, awesome!

if theres some sort of unofficial vote going on for the next set of games, im throwing in my vote(s) for Duke II and the first person catacombs game. Duke 1 was the first game I ever played and it was quite refreshing having a PND version of it with working sound.
Hi everyone,
For anyone who is interested I'm selling the following Pandora package!
1 x Pandora 1Ghz Model + everything that came with it (battery, battery-case, package, stylus, quick Start Guide, Charger with EU-Socket
1 x 32 SD Card
1 x 8 GB Sd Card
1 x 128 MB Card
1 x Official Carry Case
2 x Stylus Crayon
Everything is in good working order and I will also enclose the receipt of purchase from April 2013.
I'm looking for 440 €. Shipping within Europe is included (for outside of Europe we would have to discuss alternative/ additional shipping costs) and I only accept PayPal as the method of payment.
If you have additional questions please feel free to ask.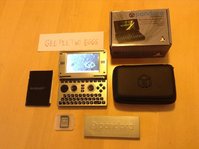 Last edited by a moderator: