Joined

May 30, 2006
Messages

5,512
Location
Website
Just wanted to show off a PC I put together: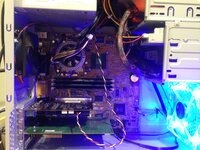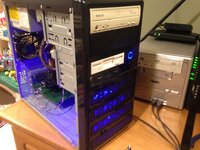 I was trying to get a machine that fit between late dos and win9X era.
I first tried installing win98se on that shuttle in the back, but it wouldnt take. That ended up with windows XP. Theres another pc on the floor also with win98, but a little fast (athlon tbird 1.2) and i wanted to keep the ati 9600 gp in it.
There was a third option an compaq presario 5000 with a celeron 533. As most of these cheap oem boards are the PCI just didnt work out right in dos. (mainly with sound cards)
So i was reviewing some of the other spare parts I had and if I had a socket 7 board I could put together a nicer slower pc.
So i found a asus P5-VM99 board. It has the ATX standard which helped. So I took the compaq psu, 64 ram stick, 3.5 floppy. The cdrom (6x4x32) wasnt standard with the compaq but i had put it in there at some point.
For the cpu I had a pentium 200 mmx lying around. I also add 2 more ram sticks with 32 mb and 8 mb respectively.
Im also using my original stick athlon heatsink on it. It was a but noisy so i switched it with the fan in the case. Looks ok for now the cpu has not gone above 40 C. I would like to try some noctura cables to Y split the mb connector and try one of speed control cables.
The board also has 1 isa slot which i liked, so if i want to get a isa sound card that could be an option. (thinking about an ESS audiodrive 1868F)
To finish the build off I put in my original owned 3dfx voodoo 3 2000 and phillips acoustic edge. I had a recent bought sb live 5.1 in it, but the dos drivers were not acting that great. The phillps card also has not been that great in dos, but in this machine it is acting not so bad.
So for now ill keep it in, and i moved the sb live to the shuttle pc. The athlon has a audigy 2 zs, which i working out great.
Theres also a 10/100 ethernet card in there too.
The case was a new from newegg and the cheapest one they had a the moment ~$20. It was ok but for one the standoffs ended up stripping, but it should be ok.
The voodoo is really the main purpose for this machine. Ive been able to get just about every glide only game that ive tried so far to work:
Archimedean Dynasty, Redguard, Land of Lore 2, Screamer 2, Carnivores 2
Well im curious about any comments anyone might have and maybe post more pictures of your own retro machine.