I received my Pandora early 2011, but had to RMA it for the LCD cable issue. This is the replacement which saw maybe a month of use.
Comes with extra battery, battery cover, and stylus. I still have all of my receipts, can throw those in if you want.
Selling because it's been sitting on my shelf for about a year, seeing almost no use.
I am located in Canada. Selling for around $300 CAD plus shipping. I have no idea what shipping will cost, have never shipped stuff before. If interested post here.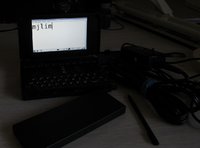 Last edited by a moderator: