Joined

Jan 15, 2004
Messages

1,290
Location
Website
Rumor: Sega branded XBox Series-X for Japan market. (Update below!)
There are some rumors that Microsoft will be selling the new Series-X as a Sega console for the Japanese market.
While it's a bit of a wild rumor the idea of Sega and Microsoft working together isn't that strange.
During the Dreamcast development Microsoft was a bit involved and during the original XBox development Sega was involved.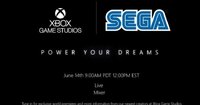 Update
Looks like the big news is 'fog gaming'?
Local arcades streaming the game to your home. (probably Japan only)
Also Sega announced the Game Gear Micro (Japan only), a tiny version of the Game Gear with 4 games on it. There are 4 different colors which have different games on them:
Black
: Sonic the Hedgehog, Puyo Puyo 2, Out Run, Royal Stone
Blue
: Sonic Chaos, Gunstar Heroes, Sylvan Tale, Baku Baku Animal
Yellow
: Shining Force Gaiden: Ensei – Jashin no Kuni he, Shining Force: The Sword of Hajya, Shining Force Gaiden: Final Conflict, Nazopuyo Aruru no Ru
Red
: Revelations: The Demon Slayer, Megami Tensei Gaiden: Last Bible Special, The GG Shinobi, Columns
More info see later post in this thread.
Last edited: