Joined

May 8, 2003
Messages

419
Location
Website
GP2X F200 Console for sale!
The D-pad has been
Gruso-modded
so it's one complete piece of plastic now, rather than four separate buttons – it's therefore ideal for fighters that require smooth motions. It's not the most tidy of mods as you can see from the photo below, but it makes the machine a heck of a lot easier to use. The unit is in excellent condition otherwise with the only other thing of note being a small scratch in the top left corner of the screen, but it's not really noticeable when the unit is in action. I can provide a photo of this if you wish.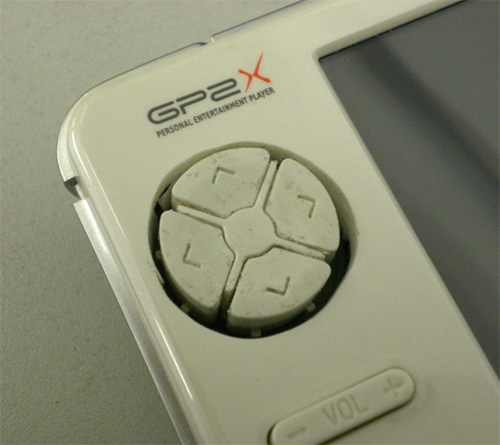 (BTW that dirt on the pad is gone now, it was the remains of the glue that was on my fingers whilst I was performing the mod itself!)
Footage of the mod in action:
http://www.youtube.com/watch?v=jekUUfkIxcw
The unit is fully boxed with all the instructions, USB cable, baggies and other stuff it was purchased with.
The unit also comes with:
GP2X Cradle (fully boxed)
S-Video cable
2x 2GB SD cards
Carry case
4x 2700 mAh rechargeable batteries, they still hold enough power to give the unit around 2 hours of solid playtime (more if you're using the less demanding emulators)
UK Battery charger
UK mutli-voltage power supply
I will also ensure the SD cards are jam-packed with emulators and other goodies, and will also provide DVDs with other related stuff on them.
Basically this is as sweet a GP2X setup as you'll ever need!
I'm after £140 for the entire package, including UK postage. International postage will be a tad more, contact me for details.
If you think my asking price is too steep (I'm not really sure how much these things go for these days) then by all means make me an offer - I can only say no, after all.
Last edited by a moderator: