Brand new, used for <1 hour 1 GHz Pandora. AC adapter (US) + battery and battery case included, of course. Need to sell stuff to fund guitar amp/pedals.
Starting price is $450, but we can negotiate if you're strapped for cash. Shipping costs not included in the $450.
ebay listing: 
http://cgi.ebay.com/ws/eBayISAPI.dll?ViewItem&item=251443660647
You get priority if you respond through this thread or live in the SF bay area (I am located in Berkeley).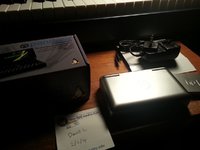 Last edited by a moderator: