Joined

Oct 30, 2009
Messages

527
Age

30
EvilDragon [Englischer Beitrag] said:

Well, not that much to report this week.
Nikolaus has populated some PCBs (so I've got something to show at the GamesCom) and got the BOE display to work (without the Solomon Chip yet).

As you might be interested to see some pictures of the populated PCB, here you are:

[Bilder in der Übersetzung]

I mostly took care of the T-Shirt and merchandising stuff that will be ready to order for GamesCom (or shortly after).

aTc, lunixbochs and TrashyMG are fiddling around with devboards right now (well, lunixbochs uses Trashys via SSH) and they got the SGX to work (with quite a few issues still, but it does work).
Maybe I'll be able to show some 3D stuff at the GamesCom as well - but we'll see that.

Right now it seems Ubuntu ARM is better supporting the OMAP5 than Debian - so maybe we'll steal some packages from Ubuntu for our OS or maybe even use a minimized version of Ubuntu (without all the bloat).
It's too early to tell something right now, it's mostly playing around to see that things are working. Ubuntu and Debian are very close together, so some exchange between both might be a good idea.

Oh, before I forgot:
It seems subscribing to the newsletter had some certification issues - so in case you didn't receive your confirmation mail when trying to subscribe, you should now be able to do that.
Übersetzung said:

Es ist eigentlich nicht viel pasiert.

Nikolaus hat ein paar PCBs bestückt (somit kann ich etwas auf der GamesCom zeigen) und hat den BOE Display zum laufen bekommen (ohne den Solomon Chip momentan).

Ihr wollt bestimmt die Bilder der Bestückten PCBs sehen, hier:

Ich habe mich um T-Shirts und Merchandising gekümmert, damit es zur GamesCom bereit ist (oder kurz danach).

aTc, linuxbochs und TrashyMG beschäftigen sich mit dem Devboard momentan (naja, linuxbochs verwendet Trashys via SSH) und sie haben den SGX zum arbeiten gebracht (mit ein einigen Fehlern, aber es geht).

Vielleicht werde ich 3D auf der GemesCom zeigen können - aber wir werden sehen.

Es sieht so aus, als ob Ubuntu ARM den OMAP5 besser Supported, als Debian - vielleicht werden wir und einige Packages von Ubuntu, für unser eigenes OS schnappen, oder eine minimalisierte Version von Ubuntu laufen lassen (ohne den ganzen Müll).

Es ist zu früh, um etwas dazu zu sagen, es ist mehr Herumprobieren, um zu sehen wie alles Funktioniert.

Ubuntu und Debian sind ziemlich nahe zusammen, etwas aus beiden wäre vielleicht eine gute Idee.

Oh, bevor ich es vergesse:

Es sieht so aus, als ob der Newsletter ein Problem hatte - falls ihr keine bestätigungs-E-Mail bekommen habt, solltet ich es nochmals versuchen.
--------------------------------------
EvilDragon said:

Another pic for you:
The dummy CPU PCB on top of the mainboard and connected to the EVM.
Übersetzung said:

Ein weiteres Bild für euch:
Das Dummy CPU-PCB auf dem Mainboard verbunden mit der EVM.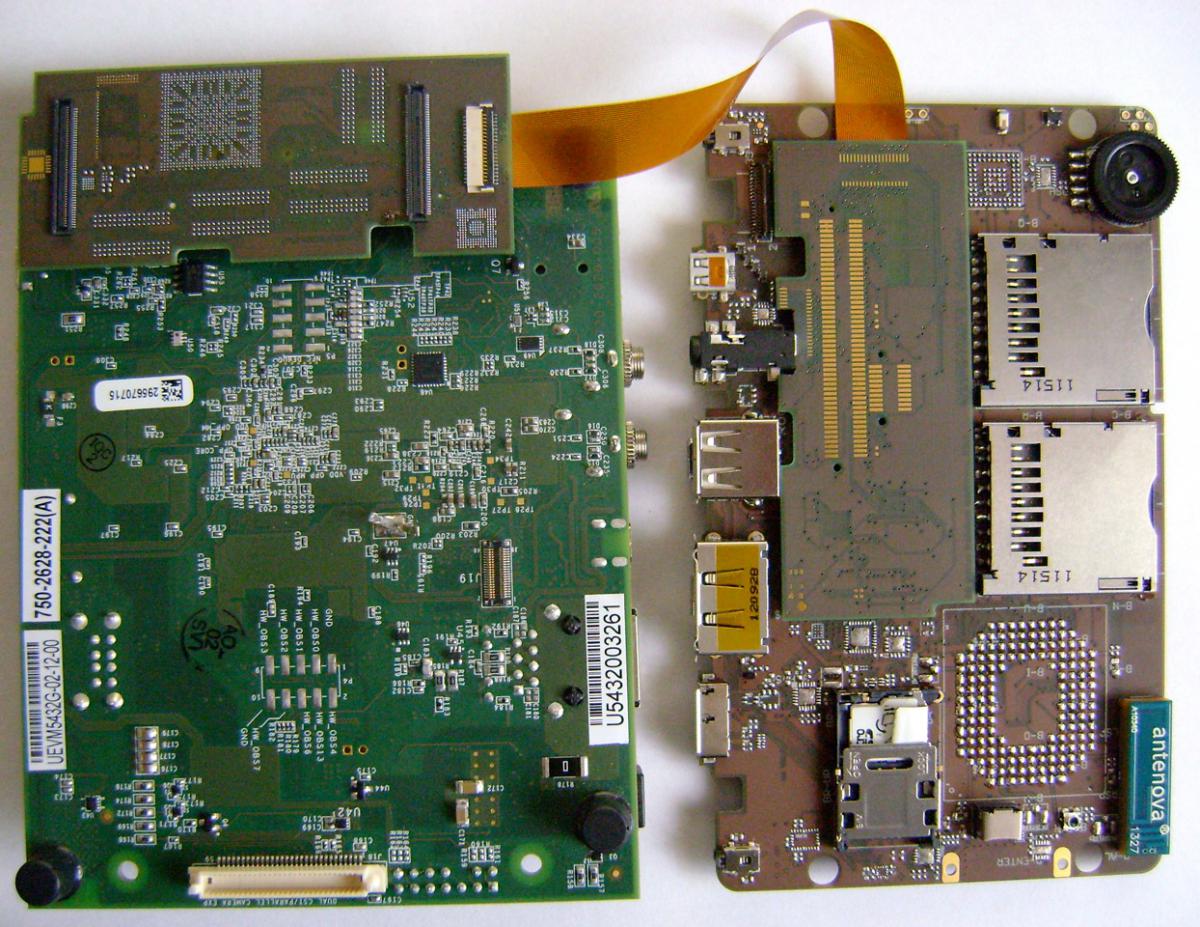 Blog
Quelle